Like these posts? Follow us on Twitter or Facebook — this is the edited version of what we're reading! (We also Tweet if we hear about a good sale through our CorporetteDeals Twitter feed.) You can also follow us on Pinterest.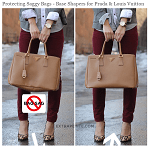 – Extra Petite researched how to prevent "bag sag" so you don't have to.
– NPR says to buy shoes on a Wednesday to save money. So THAT'S what I've been doing wrong.
– Hourglassy has some thoughts on when "curvy" isn't office appropriate.
– BB creams… then CC creams… now DD creams? SheFinds has the scoop.
– Savvy Sugar suggests ways to save time in the morning.
– WSJ has a really interesting article on how successful parents raise successful kids, in part by opening doors for them and making introductions. Readers, have you been aided by your parents in such a way?  Meanwhile, The Careerist wonders about her top five career regrets.
– For the lawyers out there:  Above the Law links to a helpful flowchart that tells you when you can go home… meanwhile, Life After Law advises you what to look for in a post-law career coach, for when it's really time to leave.
– In Kat news, thanks to Cosmo and Independent Fashion Bloggers for quoting me in recent articles.
– Finally: Please consider nominating Corporette for the 2013 Weblog Awards! Voting closes January 15 January 27.
Did we miss anything? Add 'em here, or send them to news@corporette.com. Thank you!