Like these posts? Follow us on Twitter or Facebook — this is the edited version of what we're reading! (We also Tweet if we hear about a good sale through our CorporetteDeals Twitter feed.) You can also follow us on Pinterest.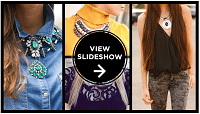 – SheFinds has some good advice on how to match your necklace to your neckline.
– Already Pretty ponders how to hem pants: for heels or flats?  (Check out the Corporette guide to proper hem length, too.)  Meanwhile, Capitol Hill Style advises how to maintain your haircalf shoes.
– You Look Fab wonders when you should shop in the plus-size department.
– Lisa at Privilege has some fantastic advice for how to cut back when your beloved glass of wine a night may have turned into a tumbler of wine.
– Business Week has a good round-up of networking no-nos.
– Ask a Manager has a great list of ways to know that you're the problem (not your job).
– Wired profiles an interesting new startup, Labdoor, that tries to assess the health claims of products (like vitamins, weight loss pills, and energy drinks) that aren't strictly regulated.
– Did you know that you can be charged a fee for using your credit card to buy things?  Savvy Sugar investigates.
– Finally: Please consider nominating Corporette for the 2013 Weblog Awards! Voting closes January 27.
Did we miss anything? Add 'em here, or send them to [email protected] Thank you!