Liking these posts? Follow us on Twitter or fan us on Facebook — this is the edited version of what we're reading! (We also Tweet if we hear about a good sale.)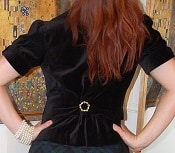 – Already Pretty rounds up some awesome ideas on alternative uses for jewelry. (Pictured – a brooch cinching a blazer.)
– You Look Fab has some great advice on how to choose a pair of dress pants.
– Miss Manners has some thoughts on workplace "friendships."
– A new issue of the quarterly, Forbes Woman, is out now. Meanwhile, Silicon Alley Insider wonders why there are so few women billionaires (inspired by the recent Forbes list of billionaires.)
– The Downtown Women's Club has some "blunt thoughts" on women's networking skills. Meanwhile, Hiring Partner suggests you keep a "me" file of your accomplishments.
– Finally:  Lifehacker ponders which plants are office-friendly.
In Admin news…
– So, hi — if anyone cares who it is behind the blog, we came out of our anonymous fashion blogging closet this week.
– So now that you know who we are, do you mind telling us a bit about you? Please take this (super short!) survey here.
– Also… we are sooo close to getting 1000 Facebook fans, after which we can secure the URL "facebook.com/corporette" rather than what it is now:  "http://www.facebook.com/pages/Corporette/20748085126". If you haven't "friended" us yet, won't you please consider it?