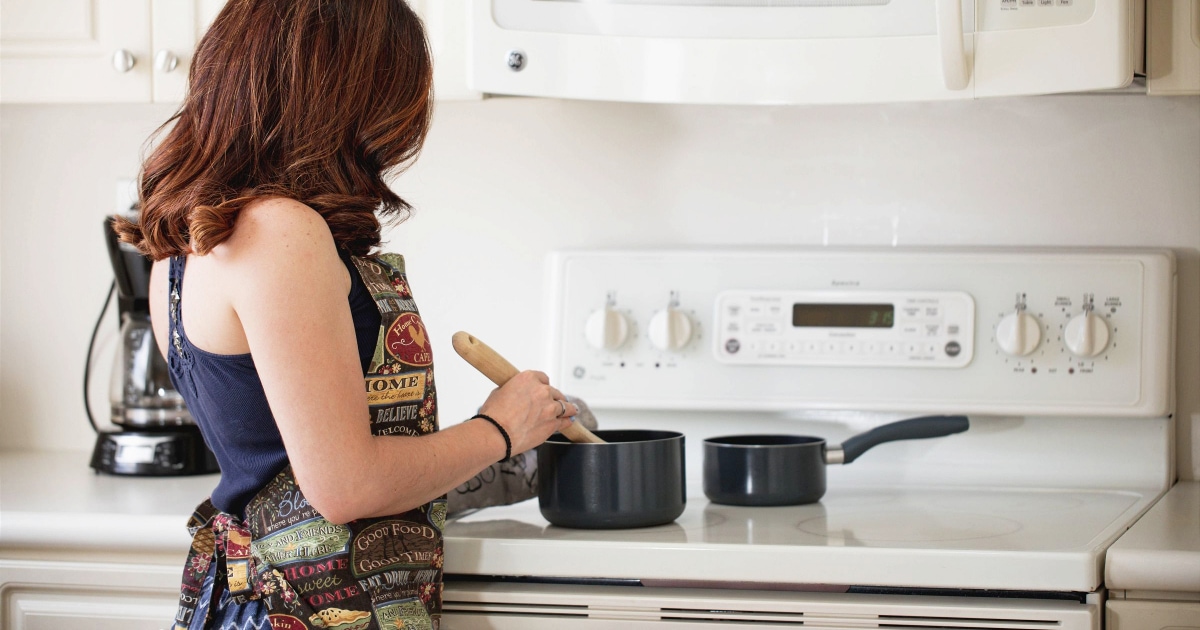 My brother is quarantining alone and asked for some good recipes for one, so I was pulling out my hummus crusted-chicken recipe and trying to find a web link for him. It is actually so old I don't think O Magazine had a website at the time (they were weirdly longtime holdouts!), but they must have put it up there along with some of the archives. So the pictures are yuck, but the article is the one I remember: recipes so simple you don't need a recipe.
We've tried a bunch of them over the years here at Casa Griffin, but something about the concept is amazing to me, so I thought we should talk about it here. What are your favorite recipes that you don't really use a recipe for? I've shared a few of these over the years, but here are two of mine (apologies for the lousy pictures for both!)
(Psst: We've seen a couple of great comment threads on simple recipes recently: this one on using your Instant Pot and this one on "decadent but easy to cook" meals!)
Hummus-Crusted Chicken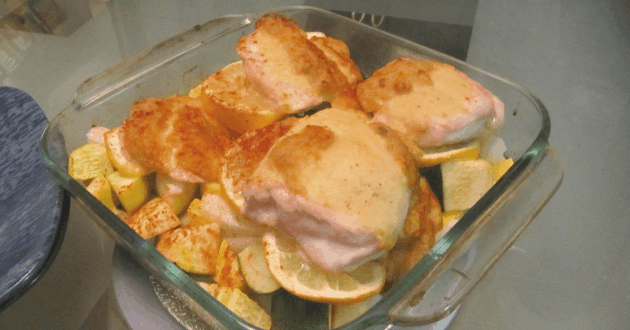 Ingredients: 1 zucchini, 1 squash, 1 onion, 1 lemon, olive oil, salt, 2 chicken breasts, paprika, hummus (sometimes I also add baby carrots)
Cut vegetables into 1″ chunks, toss with olive oil and a smidge of salt, and line bottom of 8×8 pan with them. Cut lemon in half, and squeeze the juice of one half over the vegetables. Cut the squeezed half lemon into slices and layer on top of the vegetables, then add the two chicken breasts on top of the lemon. Season lightly with salt. Top chicken breasts with hummus. Squeeze second half of lemon on top of chicken and hummus. Add a few dashes of paprika to the hummus for color. Bake at 350° for 30 minutes.
(Interestingly, I just checked the magazine and my recipe is slightly different — not sure when or how it morphed but mine is good!)
Siggy's Salad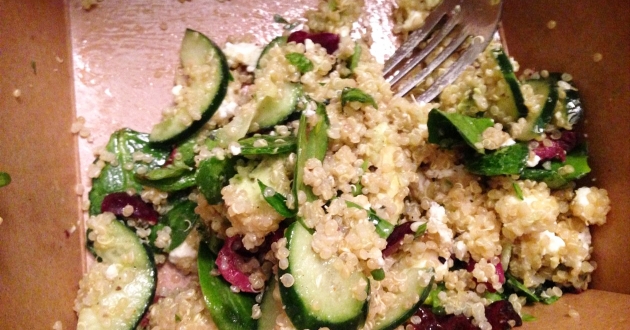 Adapted from a dish served at Siggy's Restaurant in Brooklyn Heights, now sadly shuttered.
Ingredients: spring mix, 1 jar sliced kalamata olives, 1 cucumber, 1 avocado, 1 cup feta cheese, 1 cup quinoa, lemon dressing
To make the dressing: Honestly, I just buy Hak's Lemon Vinaigrette; in a pinch you could just juice 1 lemon, add equal parts olive oil and a squirt of Dijon mustard and a dash of sugar.
To make the salad: Make the quinoa and let it cool. Drain the jar of olives. Slice the cucumber into pretty small pieces. (I like to quarter the cucumber first the long way, and then slice it.) Add all ingredients to the spring mix; toss.
If you're looking for more easy recipes with a small number of ingredients, these cookbooks seem worth a try: Taste of Home 5-Ingredient Cookbook (Amazon, Bookshop), 5-Ingredient Vegan (Amazon, Bookshop), and The Easy 5-Ingredient Healthy Cookbook (Amazon, Bookshop) [affiliate links].
Do you have any recipes that are so simple but tasty that you've memorized them? In general, what are you cooking/eating lately?
Stock photo via Stencil.