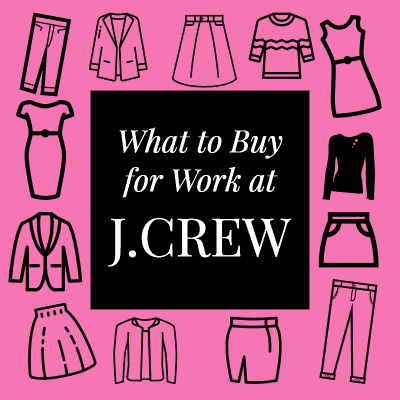 Today, we're looking at how to build a work wardrobe at J.Crew — you can also check out how to build a work wardrobe at Talbots, Boden, and Lands' End (and eventually view the entire series on how to build a work wardrobe). We try to focus on the reader favorites and best-selling classics — your absolute best bets to build a timeless, sophisticated work wardrobe.
Another great thing about J.Crew: they now offer sizes up to size 24, and all of the classics below often come in that size range (as well as petite and tall sizes).
Readers, what are your favorites to buy for work at J.Crew? What items do you have multiples of — and what do you get so much use out of that you'd buy it again in a heartbeat?
Big sales today at J.Crew – take an extra 75% off select sale styles, extra 50% off all other sale styles.
Our Latest J.Crew Favorites for Work
(Some of the trendier things that readers have most bought at J.Crew last month include these:)
In November 2022, readers loved their sweater blazers (Eloise & Cecile), this tissue turtleneck, and this "perfect" t-shirt. As always readers love these three blazers and these two cuts of pants.

What to Buy for Work at J.Crew: The Best Blazers to Buy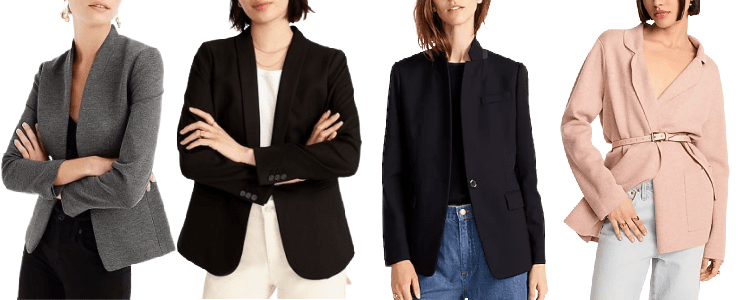 A ton of the reader-favorite blazers come from J.Crew, including the ones above: 1) Going Out, 2) Parke Blazer 3) Regent Blazer , and 4) the Eloise Sweater Blazer.
Truthfully, ALL of the J.Crew sweater blazers make an appearance on our most-bought lists (as do the ones at J.Crew Factory!).
Note that for numbers 1-3, above, they often come in suiting fabrics like seasonless stretch, but occasionally in fun fabrics like tweeds or bright colors, which can make a fun suit or a great separate.
Note also that readers in general LOVE their winter coats — particularly their Italian wool options! (Note that the hottest colors sell out quickly.)
The Best Work Tops to Buy at J.Crew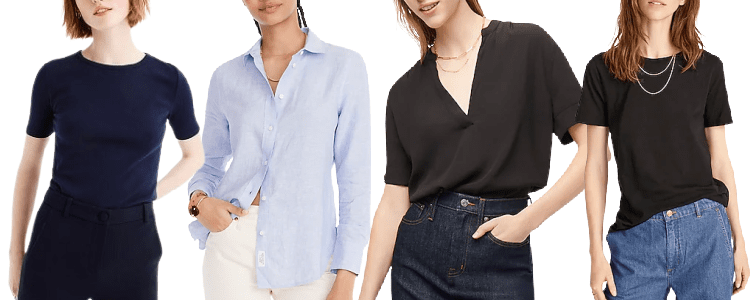 Perfect Shirt / Irish Linen / Drapey Popover / Vintage T-shirt
Readers have loved the Perfect Shirt for years now — it's one of our favorite t-shirts for layering at the office. They've also been a big fan of button-fronts and popovers.
The Vintage t-shirt line is a bit on the more casual side, but a great basic for a business casual office, a casual day, or the weekend.
Note that J.Crew cashmere and merino offerings are great basics in the winter, with everything from trendy styles to super classic cardigans.
The Best Work Dresses and Pants to Buy at J.Crew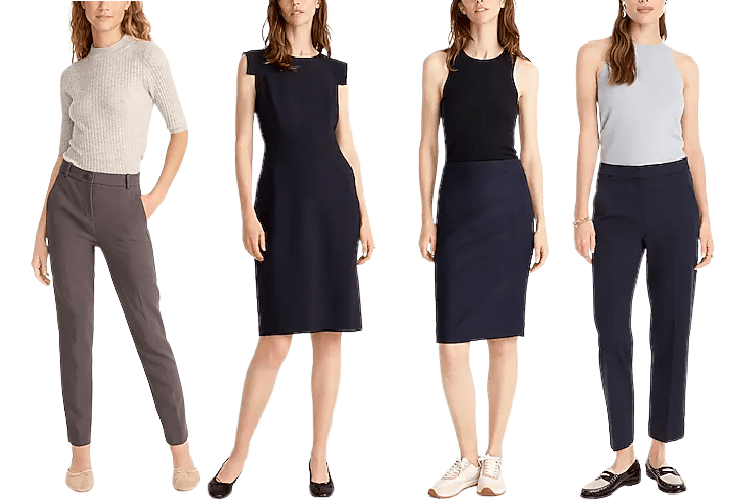 Cameron Pants / Resume Dress / No. 2 Pencil Skirt / Kate Straight Pants
J.Crew's Cameron Pants are almost always among our most-bought items every month — the pants come in a variety of lengths and fabrics, in classic sizes 00-24 as well as petite an tall sizes. The Resume Dress is another loooongstanding reader favorite (look for it with a matching blazer!); you can sometimes find it in fun fabrics and colors.
Their pencil skirts have been one of our best pencil skirts for work for years.
The Kate pants are newcomers to J.Crew's bestseller lists, but their straight cut makes them very of the moment.
Other Reader Favorites from J.Crew for the Weekend