Welcome to our latest installment in our series, How to Build a Work Wardrobe at ___, where we round up a single store's best-selling, classic items that are loved by Corporette readers for all sorts of office wardrobes. (You can also check out earlier installments with How to Build a Work Wardrobe at Boden and others!).
Today, we're looking at Talbots, which has really elevated a lot of its workwear of late, including tons of fun colors, styles and cuts at a nice mix of affordable prices and good quality. 
How to Build a Work Wardrobe at Talbots
Some of our favorite pieces for building a work wardrobe at Talbots include these items below…
Our Latest Favorite Work Clothes to Buy at Talbots
As of 2023, readers love Talbots for sweaters like this cashmere boatneck and this cashmere cardigan, as well as their sweater blazers in general. They carry seasonless suiting in a wide range of sizes (including plus-size petites!), and their iron-free blouse often comes in great prints. If you like low heels, these kitten heels are a classic.
The Audrey Cashmere Sweater
Everyone seems to love the Audrey cashmere sweater, and readers have been singing its praises for about 1,000 years — so we just had to include it!
It currently comes in 10 colors in regular sizes and petites (although it's a slightly different selection of 10) as well as a lot of colors in woman and woman petites. It's a basic jewel-neck sweater with a feminine fit and flattering cut, and it's hand wash or dry clean.
So if you're looking for a good cashmere basic (or affordable cashmere for work in general), do check out the Audrey.
Note that the Audrey comes in a bunch of fun patterns as well as some newer iterations (for example, with ribbed sleeves), but the original is definitely worth checking out. It's $149–$169, depending on size. 
Seasonless Wool Suiting
No one's going to tell you to go to Talbots for the sexiest cuts or figure-skimming styles (that would probably be Express) — but if you're looking for an affordable suit that will fit well and last, don't bypass Talbots, because they've got great seasonless wool suiting in a nice range of sizes.
(Note that tailoring is a great option if you do prefer a more figure-skimming style — here's a great roundup Jean from ExtraPetite did a few years ago for us on suiting alterations.)
The seasonless wool suiting includes pants (slim-leg, straight-leg, and bootcut), a pencil skirt, a sheath dress, one- and two-button blazers, and more.
Outside of the collection, Talbots has a lot of other good suits in general, so if you're shopping for a new one, do give them a try.
The Charming Cardigan & Shell
For a long time, Talbots' Charming Cardigan has been vying for the title of "the cardigan that everyone seems to have in their closets," alongside Halogen's three-quarter-sleeved cardigan at Nordstrom.
It's very popular — including among Corporette readers — and it's a good bet if you want a twinset look with a matching cardigan and shell.
Talbots has a lot of different versions of this right now (elbow-sleeve, long-sleeve, solids, prints, etc.), with some as low as $49.
The pictured style has an impressive selection of 13–14 colors, depending on the size range. It's made from a blend of cotton, rayon, nylon, and cashmere and is hand washable.
This cardigan is a really good basic, and I would definitely recommend it.
The Erica Kitten Heel Pump
These 2″ kitten heels come in a lot of colors and prints and are very highly rated.
They've got flexible nonskid outsoles and an antibacterial lining, and they have a good selection of widths and sizes: narrow, medium, and wide, and 5–11.
(They also sell a crisscross-strap D'Orsay pump under the Erica name that's very cute, although the heel is 3″ rather than 2″.)
So if you need a low heel, definitely check these out.
Sweater Blazers
Talbots have had great sweater blazers for a few years now, often available in a nice variety of colors as well as sizes (including plus-size petites!).
The (Iron-Free) Perfect Shirt
We're picturing the Perfect Shirt (mentioned in our post on the best women's dress shirts) in a very traditional white, but note that it comes in a ton of prints right now (stripes, gingham, geometric, polka dot, etc.).
(Besides this long-sleeved style, there's also a version with elbow-length sleeves, and a long-sleeved popover.)
It's just a very easy basic to wear, and I like that the buttons are pretty close together — that will help to reduce gaping between them.
The shirt is made from easy-care, wrinkle-resistant fabric (100% cotton) and is machine wash, tumble dry.
The Waterweave Wrap
These waterweave cashmere wraps have been a huge favorite of readers for a long time. A lot of different prints will come and go.
A cashmere wrap is a great basic if you're the kind of person who can wear a cashmere sweater and blazer at the office and still be freezing — you can layer the wrap on top of your blazer without looking like you're huddled under a blanket.
With one of these, you'll still look vaguely stylish.
It's also great as an office pashmina, as we've noted before.
These are the classics I'd recommend buying to build a work wardrobe at Talbots, but let's hear it from you, ladies: What do you like to buy at Talbots? What general categories do you tend to look at?
(For example, their winter blazers are always amazing — right now they have velveteen, corduroy, and flannel.) What have you gotten at Talbots that you've absolutely loved? What would you go back and buy again today if you could? Do you have anything from years ago that's still going strong?
These are some of our favorite comfortable low heels for work as of 2023… also check out CK Calvin Klein, Trotters, Sam Edelman, and Sarah Flynt!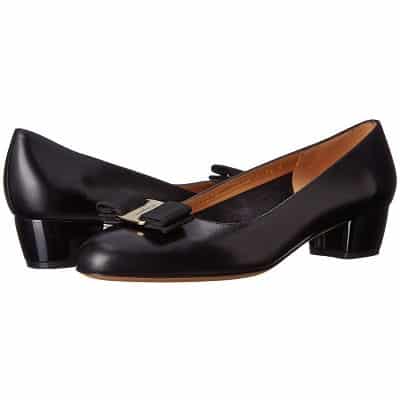 If you were starting a new job or doing a serious refresh in your closet, what would your tips be for how to build a work wardrobe at Talbots?