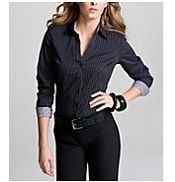 2018 Update: We still stand by this advice on what to do if your male boss tells you you dress "too well" — you may also want to check out our more recent discussion of dressing better than your boss…
Today's reader question comes from a reader in a small, private firm on the East Coast…
I've been at my first job out of law school for 15 months. I'm 26 years old, but have a young face and often get asked if I'm an intern instead of an attorney. I am a litigator and I wear suits when I go to court, which is roughly twice a week.

Joking in the office one day, I mentioned to an Of Counsel with whom I am comfortable that I got the intern comment again. He said that, while I do have a young face, I dress "too well." He said that I need to "be a little frumpier or dowdier." That, while I dress well for a young, female professional, I dress TOO well for a young, female attorney. The analogy was made that I dress similarly to a middle aged male attorney who wears a blue pinstripe suit, blue shirt with the contrasting white collar and French cuff, cuff links, and a giant diamond pinky ring – just "a little too cheesy."

Is the Of Counsel right? Do I need to wear silhouettes that are more boxy, as he also suggested? I want to be taken seriously as an attorney, but don't see the reason to cater to ultra-conservative views on wardrobe when I would be uncomfortable in such things, as it is not my personal style.
(We've edited her e-mail for space; she also notes that she has a second job working at the local Express, and owns much of what is sold there; she attached the above blouse as an example.  Essential Stretch Striped Shirt, $49.50, Express.)
First: We're not going to comment on the many, many, many things we might say about the of counsel, the propriety of his remarks, or what kind of working environment it must be.  Maybe he's like your frumpy father or big brother and only meant to be helpful — for example, if he had stopped at the cufflinks/gold pinky ring comment we probably wouldn't have a problem with this.  Maybe he's a jerk, which is the vibe we're getting from his suggestion to wear "boxy" clothes, i.e. "less sexy clothes that hide your figure."  We don't really know.  We might just link to this fact sheet from the government about "when to know if it's sexual harassment," however.  We might also suggest you contact your alumni career office to see how they recommend dealing with the situation (and perhaps if they can recommend a good recruiter).
Second:  Sigh.  The fact remains that he's a superior to you, you still have to work with him, and worse, whatever it was that he's projecting may be something that a lot of men (and women) around you are projecting.  So it's time to do some soul searching — are you wearing your clothes too tight?   You may want to start buying a larger size at Express (or two) — clothes will still have a fitted, tailored look, but won't be painted on (as they are in many of the models).  Another thing to watch out for is whether your clothes are too low-cut.  Express can be a mixed bag — there can be some great work basics in there — but there can also be some sexy going-out clothes in there.  Steer clear of the going out clothes.  You may want to peruse the website at far more conservative places like Brooks Brothers and then view your closet through those eyes — would BB sell a frumpier version of it?  With the top above (a simple fitted shirt), the answer is absolutely yes.
Finally:  We hear from a lot of women that they have issues with looking too young, and we're going to ask our readers — how do you deal with this?  Our suggestions:  Pull yourself up tall — really work on your posture and conveying authority through your body language.  Make sure that all aspects of your outfit — your coat, your shoes, your bag — convey "grown up."  (For example, avoid a puffy coat and a backpack.)  You may want to keep your hair pulled back in a neat (and intentional) low ponytail.
Ok, readers, we're sure you'll have thoughts aplenty — what are your thoughts on her e-mail? On changing her appearance for her (current) boss?  About looking too young?