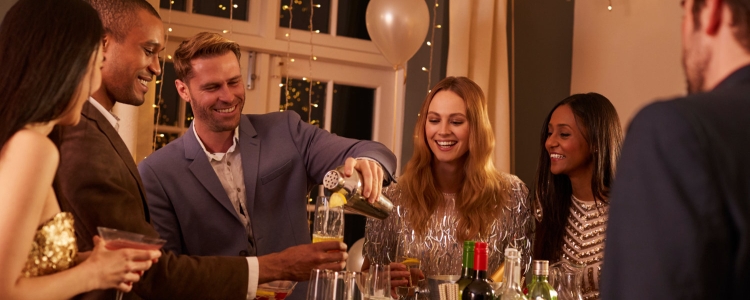 We asked a few weeks ago whether company holiday parties were happening this year, and a number of you commented that the holiday party was going to be something smaller at your boss's home this year. Which brings us to something we haven't discussed in years: What are your best tips on what to wear to a work holiday party at your boss's house?
This is obviously going to vary based on your career, company, location, and relationship with your boss, but I think there are some things to consider across the board.
What to Consider Before Choosing Your Outfit For the Work Holiday Party at Your Boss's House
The shoes: When I'm going to a house party, I'm never quite sure whether or not the host will ask us to remove our shoes, so I hate to wear an outfit that is at all dependent on them. For example, think about the outfit you'd put together if you planned to wear over-the-knee boots — and then subtract the boots.
Sometimes even with tights, I'll layer them with a pair of socks beneath the boots, which would feel equally weird to keep wearing the boot socks as much as it would be to remove the socks with the shoes. If you're wearing socks or stockings, give a thought to how well-maintained they are, and if there's anything about them that you might not want your boss or people at the party to see. (My "If you can read this, bring wine" socks would probably not make the cut.)
Even if you DO keep shoes on, I could see some stilettos being difficult to wear, snagging on looser carpets or rugs, so if you're prone to tripping those might not be the shoes for you.
How casual or dressy: This is always tricky, and I'd probably go for a middle road unless explicitly directed otherwise with a dress code. Pants and sweater in a holiday-ish color: yes. Jeans and sequin-heavy top: maybe? (Ugly Christmas Sweater: maybe!) Leather pants: know your office.
(Skirts and dresses come back to the shoe question for me — I tend to think heels are an integral part of those outfits, but your mileage may vary.)
Temperature: This may be a "me" issue, but I hate being cold as much as I hate being warm, so I'd dress in layers. Many homes get really warm if a lot of people are inside, but windows or doors might be open to compensate (or to make the party more COVID-friendly), so that could make it uncomfortably cold. (Or everyone's favorite: stifling hot in some areas but frosty in others, depending on the way the air is moving in the house.)
Hair and makeup: I'd probably spring for a blowout or a fun updo for the occasion, and pull out my party makeup looks. If I'm going to be eating or drinking I usually try to focus on eyes instead of lips, but maybe that's me.
Consider the lighting: A final note: Yes, you may stumble into some bad lighting. Hosts may have harsh overhead lighting on, which (for me at least) is going to make my makeup and outfit look different than they would in a space that's more artfully lit with lamps. (It can also make some fabrics more sheer or otherwise revealing in terms of panty lines or cellulite (should you care about either).) If you haven't been there before, there's really no way to know…
How to Know What to Wear to the Holiday Party at Your Boss's House
When we last discussed this, I noted some more questions to consider with guidelines — I'd say these still hold up:
Is it a weeknight? Wear straight-from-work attire, but maybe trade up with festive jewelry, a sparkly sweater, or a velvet blazer.
Are support staff invited? Depending on office dynamics (and whether you often feel too young/not taken seriously by support staff), you may want to keep things on the more business-y side.
Are there plus-ones? This is a general clue that the Powers that Be are willing to loosen up a bit, and festive attire might be appropriate.
Are kids invited? Back away from anything too dressy.
As always, if the party has been thrown before, you can ask someone who has attended.
(The comments on the original post are fascinating — both for how to think about dressing for a holiday party if you ARE the plus-one, as well as the clothes that feel a lot more formal than I can imagine (most) people wearing now, such as sheath dresses and black suits.)
Readers, what are your thoughts? What are you wearing — and what are your best tips for others on what to wear to a work holiday party at the boss's house?
Some General Safe Bets for Work-Related Holiday Parties
The Festive Blazer
Hunting for festive blazers for 2023? Stay tuned for a bigger roundup, but on the affordable side we like J.Crew Factory and Loft — and this Eliza J one is almost always in stock. On the more expensive side, check Reiss, Paige, and L'Agence.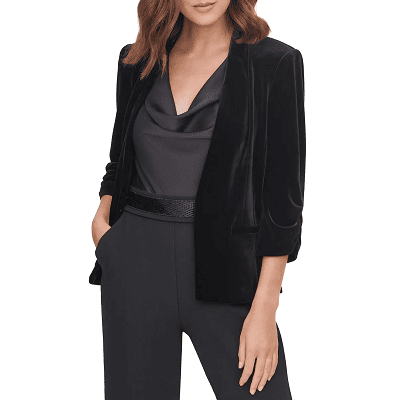 The Statement Necklace
(You can take it off or add it as needed!)
Party Pants
Wear a solid-colored top and add jewelry to liven it up.
Stay tuned for our favorite party pants to wear to holiday office parties in 2023!
Party Tops
These can be trickier — but these are the best ones we've seen this year.
Note that regardless of how it's shown on the model, you should a) not wear a sheer top to an office party, and you probably should not wear a crop top or anything that exposes your belly. Depending on the office environment you may want to keep a cardigan, shawl, or shrug with you if your top exposes a lot of your arms, such as with a halter top.

Stock photo via 123rf.com / stockbroker.