It's been a really long time (several years!) since we last talked about no-VPL underwear, so today we're sharing an update on the best no-show women's underwear.
We realize that some readers couldn't care less about VPL (I mean, is it supposed to be a secret that we wear underwear?!), and that's great — but for those of us (*raises hand*) who aren't a fan of underwear seams showing underneath leggings, dresses, fitted pants, etc., this is for you! 
So, tell us: What is your favorite no-show underwear? What underwear have you bought that promised to be VPL-free but didn't deliver? (Also, does the word "panties" make anyone else cringe? *shudder* I know it's not just me.)
Note: Most of the underwear below supposedly stands up to machine washing, but since styles like these likely to be more delicate than typical underwear, I would suggest hand washing or using your washer's hand-wash cycle. I recently bought these bags from Amazon, and they work really well, although they're designed for bras (which I use them for, too — and for masks).
This post contains affiliate links and Corporette® may earn commissions for purchases made through links in this post. For more details see here. Thank you so much for your support!
The Best No-Show Women's Underwear

I really like this underwear from Calvin Klein for avoiding VPL, and I have three pairs. I mostly wear them with workout leggings (when I'm working out somewhere other than my home; I don't care about at-home VPL!). They are totally invisible under clothes.
Even though these are labeled as machine washable, they are very thin and seem delicate, so I wash them in a lingerie bag in the hand-wash cycle with Woolite, and they've held up fine. I just throw them in with other hand-wash items — no extra work needed.
These have a tag inside (apparently they used to be tagless; don't know why they'd make the change!), but I cut it off before wearing. (Note: If you wear these with clothing that's looser-fitting than leggings, the fabric tends to shift a bit, so be aware.)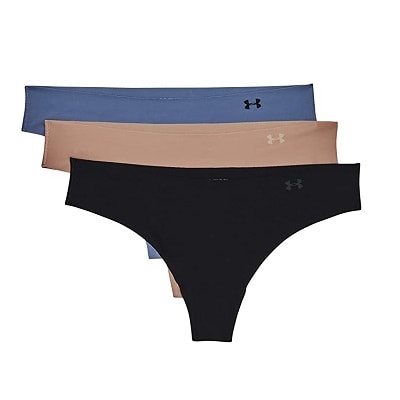 If you're looking for a thong style (has the past year killed the thong? we need a thinkpiece), I recommend what I was wearing for workouts before I discovered the Calvin Kleins above — the Pure Stretch thong from Under Armour, which doesn't show at all under leggings, which is the ultimate test of no-VPL stealth.
For a thong, they're comfortable enough, and they're tagless.
A single pair is $12+ at Amazon; a 3-pack is $19.99+; Zappos sells the 3-pack for $19.99+. They come in sizes XS–XL.
Washing instructions: The Amazon product description says "machine wash," but UnderArmour.com itself doesn't indicate care instructions, for some reason. As above, I wash mine in a lingerie bag in the hand-wash cycle on with Woolite, and they've held up well.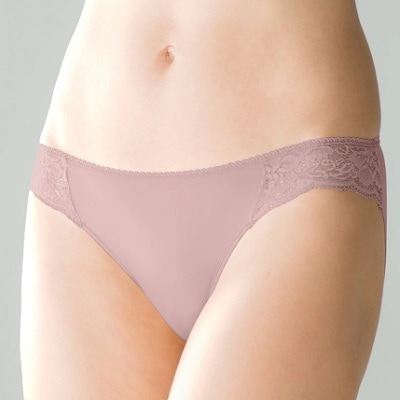 Soma's Vanishing Edge line has been very popular among readers for years, and this particular bikini with lace sides has hundreds of positive reviews. I haven't tried Vanishing Edge yet, but I like that the silicone at the leg openings is supposed to keep them in place — and they're tag-free.
The pictured style — I think the lace here is so pretty — is $17–$20 at Soma.com, and if you buy 3, you get 2 free. They come in sizes XS–XXL and are available in tons of colors and patterns!
Readers have also recommended Soma's Vanishing Tummy line (designed to "smooth and slim your tummy") to prevent VPL.
Washing instructions: Machine wash warm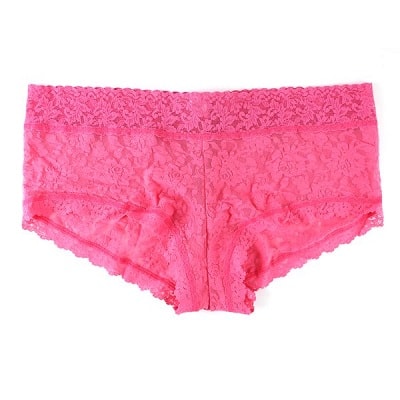 Hanky Panky has been recommended by a lot readers for preventing VPL, and the pictured boyshort style is highly reviewed (and made in the U.S.A.). It's available in both straight sizes and plus sizes.
It's available in many colors at Amazon ($14.95+) and HerRoom ($24.95+ with additional 20% off). Sizes 1X–3X (pictured) are available at HankyPanky.com ($35) and HerRoom ($35).
Washing instructions: The company recommends hand washing, with the second-best option of washing on the gentle cycle in a lingerie bag.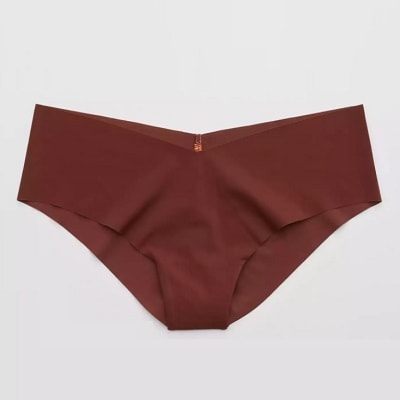 Aerie has been another reader favorite for no-show underwear, and they currently have two styles: thong and "cheeky" (with the latter available in a high-waisted option).
Besides solid colors, you can also find fun designs like tie-dye and animal prints — and the styles with lace on the sides are really pretty. The one pictured has lots of great reviews, and it's very affordable compared to a lot of brands — $8.99 each, and 5 for $25. Sizes are XS–XXL.
Washing instructions: Machine wash
P.S. Aerie hasn't photoshopped their model photos since 2014!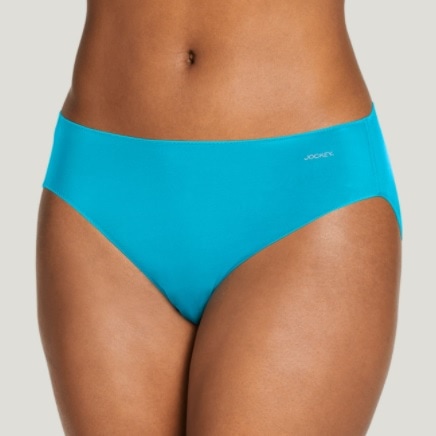 Another affordable option is yet another reader favorite: Jockey's "No Panty Line Promise" line. They offer a thong, hipster brief, and a few bikini styles; lots of colors/prints; and both regular and plus sizes.
The pictured style (low-rise with "moderate coverage") has tons of positive reviews and comes in 16 colors/prints. It's available in sizes XS–3XL; the price tag is 1 for $11.50, 3 for $30.
Washing instructions: Machine wash and dry
Do tell, readers: What's your favorite no-show women's underwear? Are there any instances when you just go commando, i.e., during workouts, to avoid the issue altogether or be more comfortable?