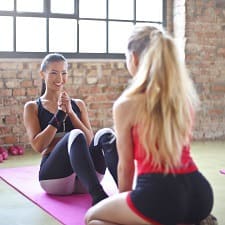 2018 Update: We still stand by this advice on what to wear to workout in front of coworkers — but you may also want to check out some of our other office-to-gym issues, including our recent post on gym near the office etiquette.
Reader M has an interesting question that brings us back to that old classic: what do you wear to workout or exercise in front of coworkers?
I am an articling student at a mid sized law firm and I have a "law day fun run" coming up, hosted by the law society. It just occurred to me that my running outfit (mini skort and a skin tight tank top) might not send the right impression even though it's what I actually wear when I go running. I have seen male lawyers biking and running in skintight and/or revealing outfits before but I am not sure if I can get away with that as a female lawyer. What should I wear?
I offered my advice on
what to wear to the corporate gym
way way back in 2008, and I'm curious to hear what readers today have to say about it.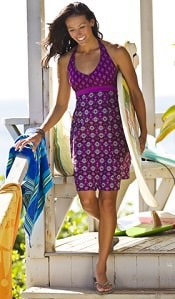 More and more companies are offering on-premises gyms for their staffers' use, and even if they don't, many people go to the gyms located near the office, where odds are high that you'll see coworkers.
(Pictured: Printed Chase Skort
, available at Athleta for $54.)
Runners particularly can get into trouble here. Half of the runners I know rely on old (ollllld) t-shirts and shorts — the other half buy shiny, new, TIGHT clothing — running tights, sports bras-as-tops, and more. A lot of this depends on your personal modesty. For my $.02, the skort and skintight tank sounds fine to me, if that's what your comfortable running in. A few notes, though:
a) Whether your shirt is tight or not — please make sure that your sports bra is a good one
and actually stops the bounce. If you have a less than stellar sports bra, not only is it bad for the girls, but wow, talk about distracting. As someone with a larger bust myself I've always sworn by Enell bras (such as
Enell Maximum Control Wire-Free Sports Bra
, available at Bare Necessities for $64.)
b) Wear an opaque shirt.
Even though I don't think twice of passing women on the street wearing nothing but a sports bra, it's a wee bit different when you know that person in a working capacity. So wear a shirt, and wear an opaque shirt at that.
c) Whatever you wear on the bottom, make sure that it's something vaguely flattering.
Avoid pants that are skintight (and, please, pants that emphasize too-small underwear, as well!). If it were me, I would also gauge whether my shorts or skorts were overambitious, given the state of my legs. Don't get me wrong, I wear a lot of shorts during summer months if I'm working out in the apartment or going for a run near the apartment — but it's just a different calculus, for me at least, when I consider wearing those shorts to anywhere near the office.
Psst: Looking for great workout shorts? See reader favorites and more in our recent roundup of the best women's shorts for summer…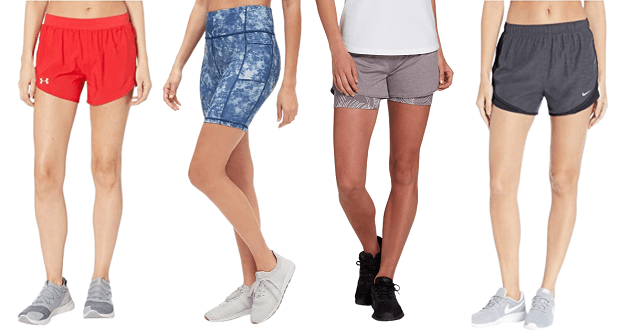 Under Armour / Gap / CALIA / Nike Dry Tempo
Ladies, what do you think? Should shorts/skorts be off-limits entirely? Should only loose tops be worn? And what about hair — would anyone advise a friend to not wear a ponytail or pigtails?
Social media images via Stencil.