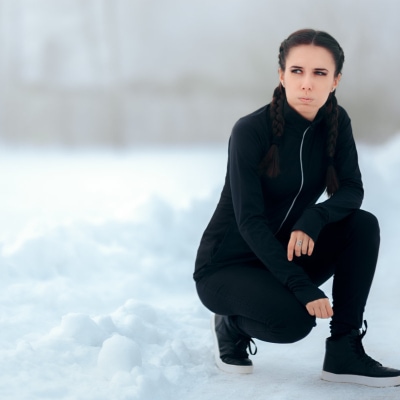 I saw this question on social media recently, and thought it might be an interesting discussion here: What is your biggest obstacle in meeting your health goals — and how can you overcome it?
For my own $.02, I've been trying to prioritize eating healthfully and strength training recently, as well as getting enough sleep. I've been doing… OK… but I'm very aware of the fact that we're heading into the busy season where all health goals go out the window, so I'm trying to recommit so I get at least a few good weeks under my belt before we hit the Thanksgiving-New Year "screw it all" corridor.
Some of the obstacles that I can definitely see standing in the way of my own health goals include
a busy lifestyle
perfectionism
declining willpower as the day wears on
feeling entitled to "treats," whether it's a bigger dessert than planned or skipping the workout
getting overwhelmed by little things, like finding proper gear for the cold or the perfect workout
I don't think I'm alone in this! We all have good intentions to eat healthily and exercise regularly, but with work, family obligations, social events, and everything else on our plates, it can be hard to prioritize our health.
But here's the truth: we are our own worst enemies when it comes to health. No one else can make us prioritize our health; it has to come from within. It also involves changing our mindset and viewing health as a priority rather than an afterthought.
How to Meet Your Health Goals (and Overcome the Obstacles In Your Way)
Some of the great tips I've seen from the readers over the years include things like these — but what are your best tips?
Set a low bar for success: If you're a runner, for example, you might say that just putting your running shoes on and leaving the house counts as a win. Is it the 10K the Perfect You would run in record time? Maybe not — but what counts as a win is all in your head.
Remove decisions: Maybe this means prepping your meals for the week on Sunday, making plans to meet a friend after work for a class or a walk, or laying out your workout clothes the night before. (One reader blew my mind when she said she puts entire workout outfits together and keeps them in her drawer like that — top, bottom, socks, underwear, etc. Brilliant!) Remove that decision-making process of whether or not you'll show up for yourself today, and make it harder for yourself to not do the work than to do it.
Remember that health is a long game — don't beat yourself up over one missed workout or one meal: For me, this looks like that interior voice that says "Screw it, we're already off track this week — we'll start again Monday." Uh huh…
Commit to yourself for 24 hours: Plan your meals for the next 24 hours according to whatever your health goals are: vegetables, fiber, protein, whatever. Plan one workout that you know is a good one. (Am I the only one who intends to work out and then gets sidetracked by fussing with the app or finding the exact workout you want to do?)
What is your biggest health goal obstacle? How do you plan to overcome it? Share your tips with us in the comments below!
Stock photo via Deposit Photos / nicoletaionescu.