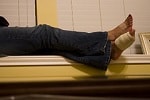 Which are your least comfortable heels? I'm in the midst of updating The Corporette Guide to Comfortable Heels today (finally!) and I noticed an interesting suggestion from one of the readers amongst the comments: that we should talk about which brands are our LEAST favorite for comfort. So let's hear it, ladies — which brands of shoes do you avoid? Are there any that are so cute that you'll withstand the pain anyway? Overall, which are your least comfortable heels?

For my $.02, a few of the brands that you won't see me recommending (they just don't work for my feet) include:
– Bandolino
– Claudia Ciutti
– Corso Como (even though a ton of readers swear by them as some of their most comfortable heels)
– any wedge that doesn't have a strap — I just cannot walk in them! (but again, some women love them, particularly for commuting!)
(Pictured.)
Ladies, over to you — which are your least comfortable heels?