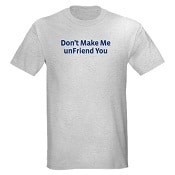 Can you keep your Facebook account private from colleagues and professional friends? Can you grow your career by networking on Facebook and still have a semblance of a personal life? What is the polite way to respond when asked, as Reader E was, to join a Facebook Group for a committee she's on?
I recently joined a committee for the local bar that organizes a fun run every year to support a local charity, which I'm excited about doing because I'm a runner myself and I really like what this charity does. Today we got an email about the first meeting, and the woman in charge asked us all to join the facebook group for this committee. I am really uncomfortable with this request. My facebook profile is almost completely locked down from my professional life. I'm not searchable, I'm not friends with any of my coworkers, and I don't want people I work with reading it. Is her request that we join this facebook group unreasonable? Can I decline? I have a work email set up so people can communicate with me about work related things. I don't want to use my facebook profile for it!
We haven't talked about Facebook in a while — we talked about what to do when your boss wants to "friend" you, as well as looked at FB's privacy settings (a long while ago — here's a Lifehacker post on privacy settings that promises to be "always up to date") — so I'm curious to see how much readers think the situation has changed.
For starters, I will say as someone who is a member of a few FB groups (as well as an administrator of a Page) that it isn't as huge an encroachment on your privacy as it might be if you Friended the woman. Your news won't show in her news feed, and the members won't be able to see anything that isn't already public. (I can only speak to what Page Administrators see (not Group Administrators), but even as the admin I can only see the public information for members who comment. Unless I'm missing it I can't even see a LISTING of all the members — just that right now we have 5500+ users and that 24 personal friends of mine Like the page.) (Speaking of, ladies — please like the Facebook page!)
That said — you have to draw the line somewhere. Obviously once you join the group with people you know, you'll get Friend requests from other members of the group. So I think you have a few options:
a) Acquiesce. Join the FB group, but let friend requests lie dormant.
b) Be direct. Explain that you only use FB to keep up with old friends, and prefer to keep it completely separate from your professional life. After all, some people don't even HAVE a FB account, so there must be other options, right?
c) Change your approach — join the FB group, and accept/reject friend requests without regard to whether you know someone personally/professionally. (But: get nice and familiar with your privacy settings.)
I suppose another option would be to create a completely new FB page for professional purposes like this. The last time I tried to do that was when I was still anonymous and trying to start the Facebook/Corporette page — if memory serves it's against FB's terms and conditions, and it was a pain and a half to administer both accounts.
Finally, here's a question to the group — have you started Friending networking friends and colleagues more so than you did a few years ago? Do you think that's a facet of FB being far more common, now — or do you equate it with adulthood/moving away from the wilder and crazier days of your youth?  (For my $.02, I still have a "I must actually know you and like you" requirement to be a Friend, but for me the wall between professional/personal came down a while ago. I regularly see BigLaw partners in my FB newsfeed, commenting on different articles or sharing vacation photos, and it makes me happy in a really weird way — aww, so that's what Bruce is up to now!  Even though I've changed careers (from law to blogging) it's nice to keep in touch.)
Readers, what are your thoughts?
(Pictured above: Unfriend t-shirt, available on CafePress for $15.99.)
(L-0)