Facebook continues to grow in popularity, and it's now entirely possible that your coworkers, bosses, former teachers–as well as your real friends–will see everything you post on there. Or at least they will if your privacy settings aren't set just so. By setting things up properly, though, you can prevent everyone but a handful of people from seeing:
pictures that other people tag of you (because your friends may not have the same aversion to posting drunken pictures of you as you might),
status updates (because maybe you don't want that guy you only vaguely remember from high school commenting when you post a sarcastic status update about being excited for another long day at the office)
your phone number, IM screen name, etc.
and more. (It seems to be easier to set up a "yes" group rather than setting up a "no" group — this way you don't have to remember to add people to the "no" group as time goes on. Furthermore, if you're like us, Facebook has become a bit like a high school reunion and office cooler party all at once, and while your number of "Facebook friends" has grown to stratospheric levels, the number of real friends has remained somewhat, well, small.)
Because this can be a bit confusing, we thought we'd post a primer on how to set your privacy settings… after the jump.
Step One: Set up your "yes" group.
Toggle to your "friends" page on Facebook. (Pardon our Perez Hilton-style scribbles…)

Once you're there, on the left-hand side of the page you'll see a list of different groups; one of the options is to "create" a group.

Name the list something like "Close Friends" and start choosing your "yes" list by clicking on people to include in that group. Their picture will turn blue if you've selected them. (Note that you can edit this list later and add/subtract people.) (Because we're dorks, we apparently named our list "Close Buds.")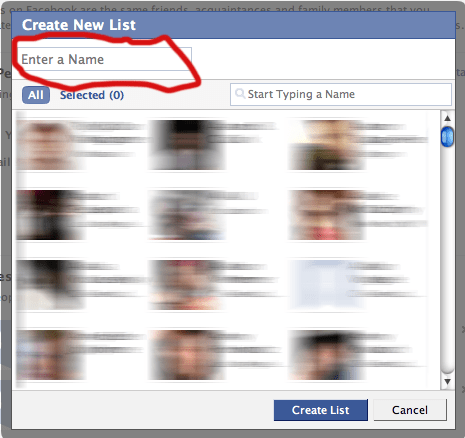 Once you've completed that, it will show up on the left-hand side of the screen — if you click on that group it will show you just those Facebook members' status updates — not your entire friend list.
Step Two: Customize your privacy settings. Toggle over to your "Settings" menu, and select "Privacy Settings" from the drop-down menu.

Now we're getting to the fun part, because there are lots of ways to customize your page. We encourage you to look around this section — just for kicks we'll walk you through how to change your profile section.
There are two sections in here — one lets you configure who sees a lot of your personal stuff (pictures, status updates, etc.); the other section lets you configure who sees your contact information. We're going to walk you through the "basic" section, but note that the other one is there. Once you're on this page, you'll see that there are lots of options — who sees your "basic" information (which includes your gender, relationship status, etc.); who sees your work information, who sees your education information, etc. If you're not sure what something includes you can click on the [?] symbol and Facebook helpfully tells you what it means.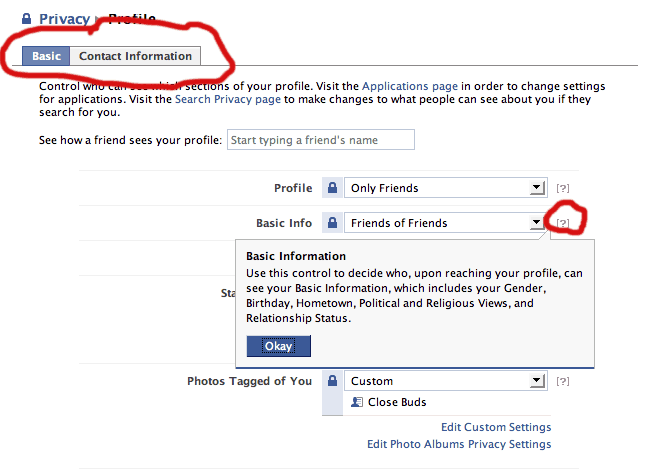 OK, time to change some options. We'll use the "status and links" section as an example. From the drop-down menu, choose "Customize."


You'll see a bunch of options — you want to go down to "Some friends." If you start typing the name of your list of friends, it should come up. (We've blurred it out in the picture below, but Facebook tells you a bit about the group of friends, also — a few names of who's in it, how many people total are in it.)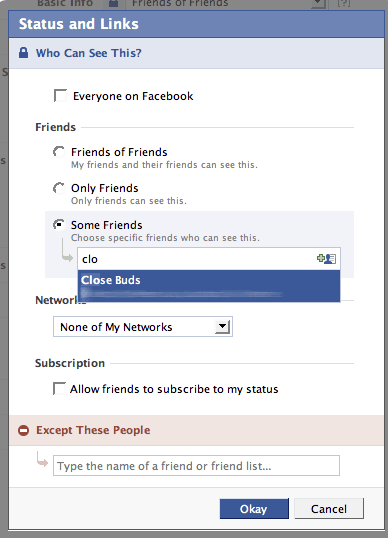 And voila! Only a few friends can now see your status updates. You are now free to whine about your job or lousy date, as well as celebrate your successes (lost 5 pounds? just bought an apartment?) — and your work colleagues and high school friends are none the wiser. In fact, one of the coolest things about the site is that it lets you see how your site now looks to specific friends. So you can type the name of a friend who's on your "yes" list and see how your page will look to them — and then type the name of a friend who didn't make the cut, and see how the page looks to them. In our experience, the page doesn't look like it's got something "missing" — it just looks like you don't use Facebook a lot.

As we said, there are lots of other cool ways to customize Facebook. You can customize who sees which photos by clicking on "Photo album privacy" from within the Privacy–> Profile –> Basic page (same one we've been talking about).

In another part of Facebook's Privacy Settings, (Privacy–>News Feed & Wall) you can also set it up so that it's never in your profile if your relationship status changes, if you remove information, or if you chatted recently with someone.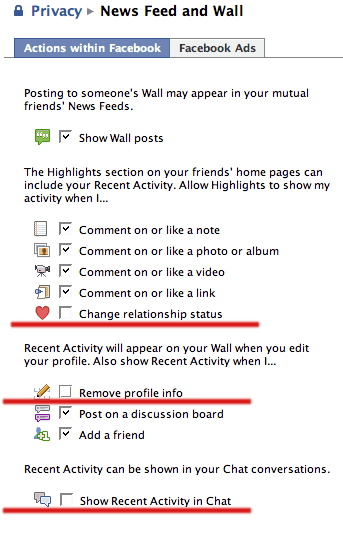 In this same section, you may want to make sure that your "Facebook Ads" page is set to "No one."
We hope this was helpful — keep in mind that Facebook is about to roll out even more privacy options so you can decide, supposedly, on a per-action basis who you want to see things. Those changes aren't out yet, but in the meantime this will hopefully be of help. Readers, anything to add?