In the 360 Review, Corporette examines a "professional woman"s" attire and critiques it from all perspectives: underling, boss, friend.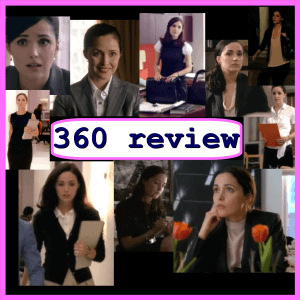 We must admit, we stopped watching FX's series Damages after a particularly preposterous deposition scene. However, we were impressed with Aussie actress Rose Byrne's portrayal of Ellen Parsons, the naive young lawyer who finds herself playing with wolves. Her style reflects some of her naivete: She seems to think that having absolutely no personality will make her seem professional. Accordingly, most of her choices are either black suits with beige blouses, or occasionally a white shirt with a black blouse. It's 100% professional — the most daring thing she does is wearing dangly pearl earrings — but given that her brutal boss, played by Glenn Close, dons them in half of her scenes it could be another example of Parsons towing the line.
The Good: Parsons always looks professional. And she has great hair.
The Bad: Parsons has no personality. If we were her supervising attorney, this girl has doc review (or in-depth statutory research assignment) written all over her. If we were her junior, we'd think this girl has devoted her life to the firm and must be avoided at all costs because she would expect us to do the same. If we were her friend, we'd read up on signs of serious depression before talking to her.
Our take: Maybe the character's preferred color scheme is a symbol of the character's world view: as a naive young lawyer she comes into her firm all idealistic and full of dreams; the world looks very black and white to her. But we think if that were the case she'd be wearing rose-colored glasses in at least one scene. No, we think this is a stereotype: professional woman gives up her personality in order to get ahead. We'd proscribe lots of color, stat, and refer her to the old BBC episodes of What Not to Wear — Trinny and Susannah always said either wear black with black, or color with color. We wish the writers would at least give us a wacky weekend persona — pigtails, Converse, something — that explains her need to dress with no personality. But no….
Let's take a look…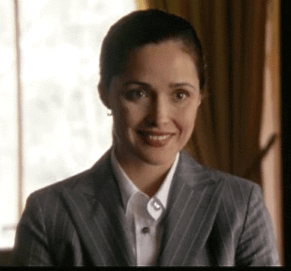 She kind of looks like a Palmer girl here from the "Simply Irresistible" video. Red lipstick is a nice splash of color, though.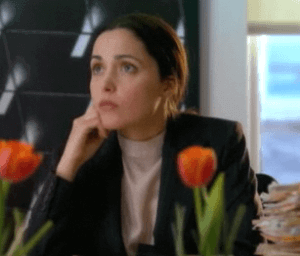 Hmmn. Beige with black. Bo-ring.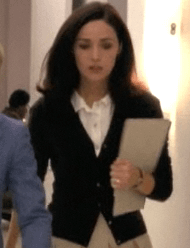 OK. Beige with black AND white.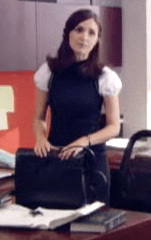 Nice puff sleeve and sweater-vest combo, but again: black and white.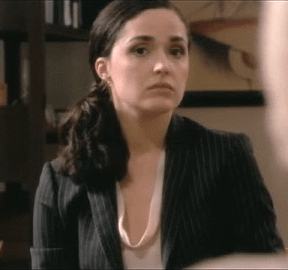 We've posted two shots of this outfit so you can see how truly daring this is for this character — a blousy drape. Whoa.