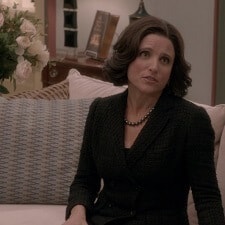 If you've ever watched HBO's comedy Veep, starring Julia Louis-Dreyfus, you know that Selina Meyer's workwear represents some serious wardrobe #goals. First she was the vice president — then the president! — and, well, if you're not yet caught up to season 6 we'll leave it at that.
Part of the plot is that she's bumbling, inconsequential, doesn't accomplish anything — and is super mean about all of it to her staffers while presenting a smiling face to the public. Her main goal seems to be staying in power for power's sake.
But whether you think she's a brilliant politician or her character represents a big part of the problem, her wardrobe is always on point.
We wondered what lessons we could learn by taking a look at her wardrobe, and if you wanted to, what are the best tips for how to dress like Selina Meyer in Veep? What are her style secrets?
Selina Meyer Style Secret #1: An Amazing Tailor — and a Willingness to Let the Dress Speak For Itself
Selina Mayer not only has clothes that are incredibly tailored to her body, but she also makes a fairly bold move with what some would see as under-accessorizing.
Sure, she's wearing a delicate necklace and gold bracelet in the picture above with the blue dress, but with all of these looks I know I would be tempted to add a brooch or a heavier, more statement-y necklace — she does not, and it ends up being a very decisive, let's-get-down-to-business look.
It's also interesting to note that she prefers solids or allover patterns like animal prints — she's not really one for stripes or floral details.
Selina Meyer's Working Wardrobe: The Skirt Suit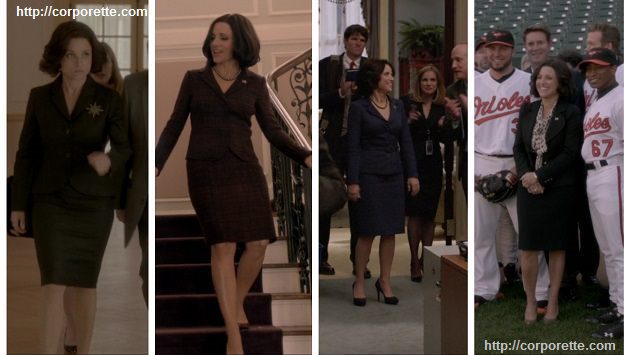 We often see Selina wearing a skirt suit — she's very rarely in a pantsuit, and only sometimes in a dress + jacket combo.
I'm not sure if that's a commentary on women politicians having to dress in affirmatively feminine ways (she rarely wears pants at all — I can only think of times when she's traveling or at home relaxing when we've seen her in pants), or if it's something less nefarious like her wardrobe team thinking skirt suits look better on Louis-Dreyfus's body type or something — but I love the skirt suits and think they're a great formal look.
Selina Likes Personality Necklines

I've called these kinds of necklines "personality necklines" before — the scalloped neckline in the red dress, the unusual portrait/cowl neckline in the pink, the wide collar of the black, or the four-point, squared neckline of the purple dress — and she rocks them all. They help to keep with her style of minimal yet bold dressing.
How to Dress Like Selina Meyer in Veep: Learn to Love the Secretary Blouse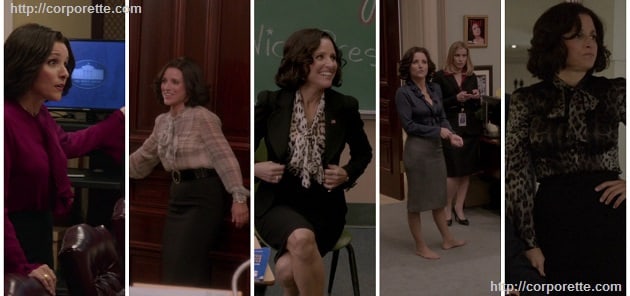 She wears a surprising number of fitted blouses with skirts in general, but the looser, bowed version seems to be a particular favorite of hers. In real life I often find these kinds of blouses to be a bit too fussy and complicated — where exactly do you tie the bow, again? — but Selina Meyer's stylish collection makes the tie-neck blouse look like an easy, almost default choice.
A Good Belt Goes Far

I was intrigued by how many belts I noticed her wearing — they emphasize the tailoring and her trim figure, but I think they also add some visual interest to the outfits.
I like the black wide belt with the white blouse the best (the picture above on the phone at far left), but the matching belts in the red and navy pictures were interesting and nice, and the slender belts of the green dress and skirt suit were also great.
A Brooch Can Add Some Serious Personality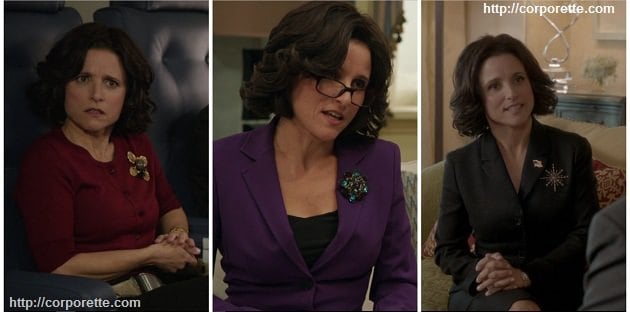 In earlier seasons she wore more brooches with cardigans, dresses, and blazers. I've written before of my love of a good brooch, and we've talked about how to wear brooches in the past as well.
Psst: stay tuned for some of our recent favorite brooches!