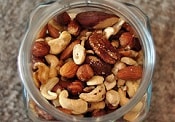 For busy women, eating healthy can be impossible —  so I was curious which five small changes would make the most impact. We've talked about easy weeknight dinners, healthy snacks for the office, and ways to politely decline treats your coworkers bring to work, and today guest poster* Sara Sarakanti, a certified health coach, weighs in on this nutritious issue. (Sara is also an old friend who features prominently in Jack's bedtime stories — it was at her birthday party seven years ago that I met my husband.) Follow Sara on Twitter at @SaraSarakanti. 
Replace soda with water, and make it sexy.
Stop drinking empty calories and sugar in soda, and start replenishing cells in your body with water. Drinking six to eight glasses of water a day can be tedious, but there are plenty of bottles out there to help you reach your goal easily. Find a large water bottle (BPA-free of course) that holds up to four glasses of water, and be sure to drink two full bottles' worth of water throughout the day. Always remember to replenish midday. If you don't like the taste of water or think it's too boring for your palate, then purchase an infusion water bottle. You can load up the center tube of the bottle with lemons, berries, or any other refreshing, nutrient-rich fruits. For some elegantly designed infusion water bottles, check out Define Bottle (as seen on ABC's "Shark Tank"). Soon enough, you'll be drinking your H2O in style.
Balance out acid vs. alkaline, the Yin and Yang of digestive health.
Most of what Americans eat these days is acid: meat, dairy, carbs, caffeine, and sugar. Alkaline diets are based on whole foods such as fruits, vegetables, nuts, legumes, and alkaline grains (amaranth, quinoa, buckwheat, and millet). Many ailments and illnesses can be resolved by balancing out the acid/alkaline pH in our bodies. A prime example of an acid-excess disease is acid reflux. Dangerous long-term use and effects of H2 blockers can be avoided by doing something as simple as adding more greens to your diet. No one's saying you can't have your morning cup of coffee, but add in those anti-inflammatory foods as well. There is an excellent book on this topic called The Acid-Alkaline Diet for Optimum Health: Restore Your Health by Creating pH Balance in Your Diet by Christopher Vasey.
Stop buying food in boxes, bags and wrappers.
Real foods are naked and aren't disguised by a fancy cover. They're not refined, they're not fried, and they're by no means "fast." This is not to say that whole foods can't also be eaten fast! There are lots of purse-friendly, on-the-go whole foods, such as bananas, apples, nuts, seeds, and baby carrots.
Remember the Whole Grain Truth: all carbs are NOT created equal.
Carbs have been given a bad "wrap," but Whole Grains are the "Wholey Grain of Life." With diagnoses of gluten sensitivity and gluten intolerance common, you have to get creative on the grain train. Steel-cut oats, spelt, quinoa, amaranth, millet, and buckwheat (see also alkaline!) are the answer to your unprocessed prayers since they're chock full of fiber, omega-3 fatty acids, and antioxidants. Pret A Manger has scrumptious Five-Grain Oatmeal that you must run out and try the minute you wake from slumber.
Cut yourself some slack, and indulge once a week!
Go ahead, you've earned it. If you're too strict 24/7 with your diet, then you'll fall off the proverbial wagon. Reward yourself with a night out with your boyfriend or friends, and make the focus of your meal the healthy relationship you are nurturing while at the same time eating mindfully. Dr. Susan Alber's Mindful Eating Plate and The Institute for Integrative Nutrition's definition of primary food are great references for when you mindfully indulge in both primary and secondary foods.
(Pictured: 278/365 – Nuts!, originally uploaded to Flickr by Adam Wyles.) 
—————
* As always, this guest poster has been invited by Kat to post on a subject of interest to the community. We value having different and diverse voices here, and indeed part of the benefit of guest bloggers is broadening the dialog beyond Kat's own views. To that end, please note that opinions expressed by guest bloggers, like opinions expressed in comments, do not necessarily reflect the opinions of Kat, Katfry LLC, or any of our sponsors or other contributors.
N.B. PLEASE KEEP YOUR COMMENTS ON TOPIC; threadjacks will be deleted at our sole discretion and convenience. These substantive posts are intended to be a source of community comment on a particular topic, which readers can browse through without having to sift out a lot of unrelated comments. And so, although of course I highly value all comments by my readers, I'm going ask you to please respect some boundaries on substantive posts like this one. Thank you for your understanding!