If you wear plus sizes, you probably know the usual suspects at various price points, from Eloquii to Talbots to Lafayette 148 New York — but fortunately, more and more brands are deciding to offer extended sizes. A couple of years ago, we rounded up designer plus-size clothing for professional women, but even since then, several big brands have gotten with the program and moved beyond selling a 10 or 12 as their largest size. To help you keep up with these developments, today we're featuring seven clothing brands that you didn't know offer extended sizes…
{related: our recent plus-size picks}
This post contains affiliate links and Corporette® may earn commissions for purchases made through links in this post. For more details see here. Thank you so much for your support!
Pictured above, some reader favorites now in extended sizes: blazer / green dress / black dress / navy dress
Here are seven workwear brands that now offer plus sizes — most of them only in the last year or two:
J.Crew & J.Crew Factory
J.Crew made news (for better or worse) in 2014 when it introduced sizes 000 and XXXS, but it wasn't until four years later that the company launched a 37-piece collab with Universal Standard that went up to size 5X.
Today, many of its classic styles (including reader favorites) extend to size 3X, including the Cameron Pant ($89.50), Going-Out Blazer ($158), No. 2 Pencil Skirt (on sale for $55.65), and Tippi Sweater ($79.50). J.Crew Factory also has plus sizes available, including for another bestseller, the Sweater Blazer ($82.50). (Sister site Madewell is much more casual, but also offers a ton of options up to 3x!)
M.M.LaFleur
M.M.LaFleur started offering extended sizes in 2017 to accommodate women who wear 14W–22W, and the brand has expanded their offerings since then. Now you can find tons of choices in sizes XL, +1, +2, and +3 in tops, jackets, pants, and dresses — including reader favorites The Etsuko Dress, The Annie Dress, and certain colors in the Woolf and Sant Ambroeus jardigan styles. Find out more about the company's plus-size sizing system here.
Diane von Furstenberg
A plus-size version of the classic DVF Julian Two wrap dress is now available at 11 Honoré, the plus-site site that launched a collab in 2019, and at DVF.com. Five designs — animal print, floral, geometric, etc. — are currently available in sizes 14–24 for $568. (We featured the black-and-white print in a workwear report last month.) Note that the company offers plus-size styling services in several U.S. cities as well as virtually.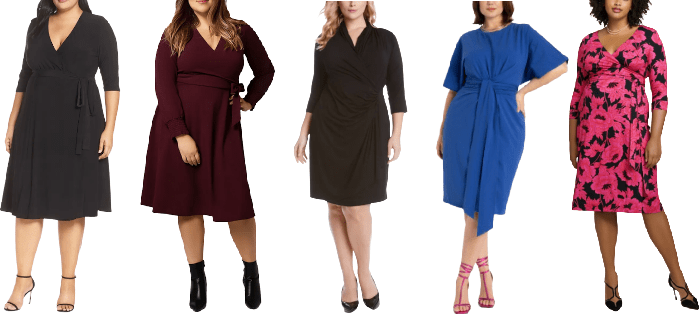 Anthopologie
Last year, Anthropologie started carrying sizes 16W–26W, calling their new collection APlus by Anthropologie. It encompasses both house labels and outside brands, e.g., Cloth & Stone, Citizens of Humanity, and Maeve. The pieces are only available online and in 11 brick-and-mortar locations in the U.S. and Canada — but the site offers free returns for plus sizes. A lot of the collection is more suited to weekend wear, but office-appropriate pieces, such as this dotted herringbone blouse ($98), can be found. (Note that Free People, which is owned by Anthropologie's parent company, currently only offers sizes up to XL.)
Psst: These are some of our Hall of Famer heels that come in wide widths… see our latest roundup of the best black heels for business attire here!
Boden
A couple of years ago, we did a post on how to build a work wardrobe at Boden, and some of our picks — as well as reader faves — go beyond straight sizes, including the Bronte Ottoman Dress ($98), Martha Dress ($150), Carey Top ($85), and Smythe Blazer ($150). All are available in sizes 16/18 and 20/22, both of which Boden classifies as XL on its size chart. Bonus: Much of the brand's clothing is machine washable.
Loft
While some of the styles on Loft's sister site, Ann Taylor, go up to XXL, Loft's website seems more welcoming to customers looking for larger sizes, placing "plus" in its top menu and offering more than 350 items in the plus category. Loft started selling extended sizes up to 26 in 2018, but if you do a search right now for "plus" at Ann Taylor, the message that pops up is "HMMM… We stylishly searched for 'plus' and no luck." Loft's utility blouse (on sale for $29.50) has been a reader favorite, and the site offers a couple of versions of it.
Veronica Beard
We've featured Veronica Beard in the past from time to time, and after the brand added extended sizes in 2019, we highlighted a suit in a scuba material. That suit is still available at Nordstrom, and it goes up to size 24 (noted as being similar to a size 20W) — the pants are $295, and the blazer is $600. The company has said it's committed to keeping extended sizes in its stores, not only online — and that it plans on adding more sizes in the future. Veronica Beard is available at Nordstrom and 11 Honoré.
Did we surprise you with some of these clothing brands that you didn't know offered extended sizes? What are your favorite brands that offer extended sizes? What brands do you WISH offered extended clothing sizes?