Sure, we all know what wardrobe essentials for work professional women are supposed to have in their closets, but if you're buying one for the first time or replacing one you've worn into the ground, it can be a pain to find exactly the right incarnation in stores. In "The Hunt," we search the stores for a basic item that every woman should have.
It is time for our yearly roundup of comfortable heels for work — if you're looking for the best black heels for business attire, look no further. As you can see from the top collage we're still seeing a lot of pointy-toed, classic silhouettes, but block heels, rounder toes and architectural heels are making a stronger showing all the time. (The only thing I'd say is definitely rare at this point is a square toe, at least for pumps, but heeled loafers are also making a comeback.)
A few notes, to start:
of course you don't have to wear heels to interview or to work – flats are more and more acceptable (see our latest roundups of comfortable flats); we've also picked out a ton of low heeled shoes and wedges
we do a roundup of black heels because they tend to be the most versatile and should probably be the first pair of shoes you buy to wear to work — but gray, nude-for-you, and cordovan shoes are also basics. I would say that kidskin (matte leather) pumps are the classics, but suede, patent, fabric/textured/embossed heels can work in a pinch for interviews if that's what you already own and are comfortable in.
don't forget you can wear black with navy
take care of your shoes — scuffs, scraped leather, and more can be taken care of pretty quickly either by yourself or by a shoe professional — you can also replace heel tips and even the soles of your shoe with rubber portions to increase the comfort (here's our post on how to make your shoes last longer if this is a big problem for you!)
Readers, I'd love to hear from you — what is your go-to pair of black heels for business attire? For those of you who have splurged on a Really Fancy Brand, what shoe did you get, and how are you liking it?
This post contains affiliate links and Corporette® may earn commissions for purchases made through links in this post. For more details see here. Thank you so much for your support!
(List updated 2021!):
These are some of our favorite comfortable low heels for work as of 2023… also check out CK Calvin Klein, Trotters, Sam Edelman, and Sarah Flynt!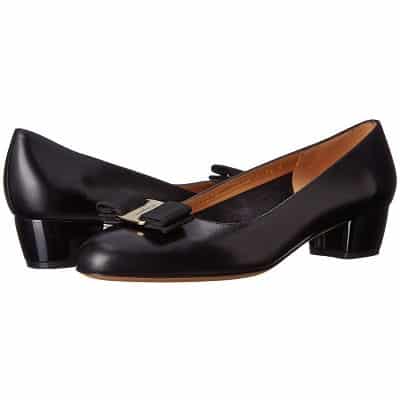 (Curious for our previous roundups of black pumps? In addition to the several specific shoes mentioned in our Guide to Comfortable Heels, here are our roundups from 2021, 2018, 2017, 2016, 2016, 2015, 2013 (interview pumps AND our low heel roundup), 2012 (under $250) and 2008, as well as our comfort-focused roundups of 2016 and 2010 and our posts on extended sizes for professional women's shoes.)
We wrote before about the affordable dupe we found for this super popular block heel — and while that dupe doesn't come in solid black), this shoe (from the same maker!) looks like another great dupe — and it starts at $43. Nice.
These $128 pumps at Ann Taylor have mostly great reviews for comfort, and reviewers love the 2.5″ heel.
They're available exclusively online.
If you're looking for a very low, walkable heel from a comfort shoe, strongly consider these pumps from Vionic — they've got rave reviews at Zappos and Nordstrom and have been around for several years; I also think the lower vamp on the toe is really flattering.
Another great option for low heels is this heel from Calvin Klein, and the popular Everlane heels are the same height (2″). Vionic also makes a strappy version if you like the look better or need the strap.
If you currently fall into the category of "person who doesn't wear heels but wants to for an upcoming event," I'd take a look at this blocky pump from L'Amour des Pieds — not only does the pump have rave reviews at Nordstrom, but select colors and sizes are 10% off right now. (There's a kidskin version at the company's website (lucky sizes only), and Amazon also has a variety of colors and materials for $129.
Other good brands to look at for comfort heels include Ferragamo, Michael Kors MK, Clarks, Naturalizer, and Comfort Plus by Predictions — and don't forget to check out our entire guide to comfortable heels!
On the splurgey side, the MMLF heels are getting a ton of great buzz — we've pictured the 3″ pump (available for $365) but note that they also have a 2″ pump if that sounds better to you. The product description is pretty interesting, and sounds like a lot of thought went into the heel:
As part of the MM Duo Craftsmanship family, these shoes are made with Glove Flex technology, an extra-supportive footbed, and signature scratch-resistant heels. We crafted these shoes with a special Italian construction, "sacchetto," to give them a fit that molds to your feet and allows for ultimate flexibility—all the better to leap across the conference room when your next brilliant idea hits. An extra-thin but extra-supportive Poron™ memory foam footbed and a rubber-injected outer sole mean these shoes aren't only super comfortable, they're also breathable and naturally odor resistant. These heels are sculpted in an elegant curve that allows for your weight to be steadily balanced—no precarious teetering here.
Like this feature? Check out other recent installments!
This post contains affiliate links and Corporette® may earn commissions for purchases made through links in this post. For more details see here. Thank you so much for your support!