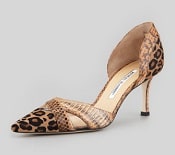 Sure, we all know what basics professional women are supposed to have in their closets, but if you're buying one for the first time or replacing one you've worn into the ground, it can be a pain to find exactly the right incarnation in stores. In "The Hunt," we search the stores for a basic item that every woman should have.
Animal print shoes are everywhere for fall — so I thought it might be fun to round up a few different options for today's Hunt. As I've said before, I embrace animal print as a classic (although it definitely has moments of ultra-popularity, like now), and I actually think animal print pumps can work as a great neutral with blacks, browns, beiges, and more. Ladies, do you like animal print pumps for the office? How do you wear them — and have you bought any great pairs recently?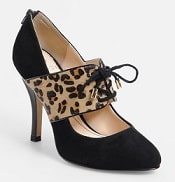 I'm a fan of the whole Isola/Sofft/Born shoe family — they make super comfortable, well made shoes for reasonable prices.  I think of Isola as the "sophisticated daughter" of the other shoes because the vibe is younger and trendier, and this gorgeous pump fits the bill.  It's also available in a red/zebra version, although I suspect the black/leopard one will work better with fall tights.  Both shoes are $109. Isolá 'Isabel' Pump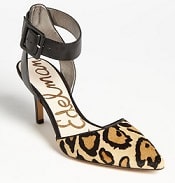 I've featured the lovely Okala pump before in burgundy — but both the leopard/black and cow/beige versions of the shoe are on trend (and, at $129, another reasonably priced, comfortable option). Sam Edelman Okala Pump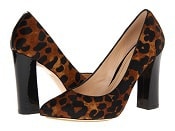 I couldn't quite decide which shoe to picture here — the low version or the high version of this pump — because both are lovely.  The high version feels a bit more modern; the low version feels a bit more 60s — I think both could add a pop to a lot of women's wardrobes.  I would probably stick with the "woodbury" ocelot (pictured) or the gray, but note that the higher heels do come in an "orchid ocelot print haircalf."  The high version is $368; the low version is $348, both at Zappos. Cole Haan Chelsea Black Heel Pump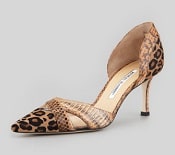 I absolutely love this Manolo Blahnik pump, and I think it's a great example of how really committing to animal print can be a sophisticated but fun look. Here they've mixed leopard print calf-hair and snakeskin into one shoe — for those of you bored with Animal Prints 101, this is a great example for how to take the next step. Gorgeous. The pumps are $895 at Neiman Marcus. Manolo Blahnik Crux Gala Leopard-Print & Snakeskin d'Orsay Pump
Like this feature? Check out other recent installments!