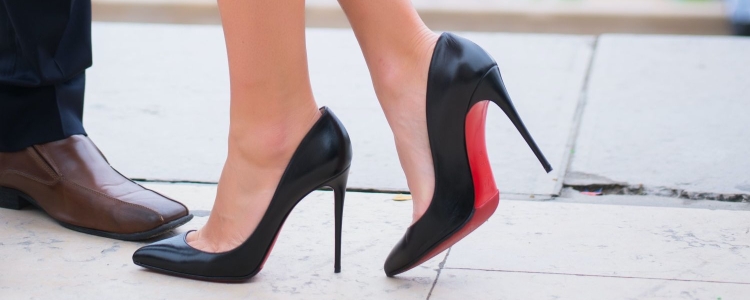 Are Louboutins appropriate for the office with those sexy red soles? Reader J wonders…
What do think about wearing Louboutins in the office? Is the red sole too sexy?? I have a pair of Simple 85s, which are not high at all. They're conservative, black kid leather, round toe, surprisingly comfy, but they have this in-your-face scarlet sole. I'll be working at a bank that has a reputation of being somewhat laidback, but I don't want to make the wrong impression… Help please?
When I was a first year associate I was completely jealous of another first-year associate who had done some serious shopping during her bar trip — LV bags, Hermes scarves, and Louboutin shoes. She had a classic kitten heel Louboutin, with the trademark red sole. This was before Louboutins were quite as "big" as they are today, so the red sole really stood out, and I thought, looked fabulous. So for my $.02, yes, simple Louboutins are appropriate for the office.
Reader J has a slightly higher heel — the 85mm version, which is just over 3″. Even this I don't have a problem with — it's a classic, gorgeous shoe, and so what if there's a red sole. (Pictured above: Simple 85 Pumps
, available at Saks Fifth Avenue for $595.)
Hunting for investment heels? Some of the bestselling, highest-rated designer heels for work in 2023 include:

Update: I'm seeing a lot of chatter on Twitter and in comments about whether Louboutins are appropriate for assistants or interns. Does it shout "I'm not here for the money" the same way a Birkin bag does? To me, a $600 pair of shoes and a $10,000 bag are in entirely different leagues. I suppose my rule would be that if you can buy it in one paycheck, it's appropriate for any woman of any level.  My guess is that Reader J can swing a $600 pair of shoes in one paycheck given that she works at a bank — my answer might be different for the unpaid intern. (But even then I see so many teenagers walking around with Louis Vuitton bags (which generally start around $1000)…)
But this isn't to say that ALL Louboutin shoes are appropriate for the office. For example, I would say that any of the platform shoes pictured below are pushing it for most conservative offices — the office hallway, alas, is a far cry from the red carpet. (Fun question: can you guess which pair below is the most expensive?)
Readers, what say you? Is the Louboutin red sole appropriate for the office?
(Check out other comfortable, work-appropriate shoes in the Corporette Guide to Comfortable Heels!)