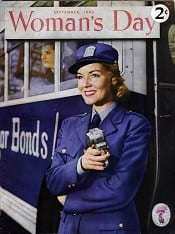 What are your favorite articles for working women? What has stayed with you, or shaped the way you think about your career? I always wish that I read more books, but if we're being honest it's mostly articles that stay with me. We round up some relevant ones every week and have had a big discussion here or there, but I don't think we've ever rounded up a good list of some great articles that all working women should read. (We did have a very similar discussion over at CorporetteMoms last week about great articles for working mothers — there is some overlap but not a ton.)
These are the ones that I think about regularly from the past — what has stayed with you guys?
Helpful Career Advice Articles for Women I Think About All The Time:
Depressing Career Articles for Women I Think About All the Time:
Work Fashion Posts I Think About All The Time:
Funny Posts for Working Women I Think About Often:
I mentioned the am-I-wearing pants flowchart from Buzzfeed above, but this comic on bitchface is also pretty great.
Also from Buzzfeed: 26 things Hilary Clinton thinks about you.
Time magazine looked at some hilarious stock photos of working women.
Finally: This video is funny enough that I think of it often, but as I've mentioned before I find it frustrating: Bitch in Business, by Columbia B-School Follies.
Meanwhile, I almost can't choose a singular article, but you have to check out the work of Hanna Roisin and Jessica Grose, both of whom write often on women's issues.
Ladies, what are your thoughts on your favorite articles for working women (helpful, depressing, funny, whatever) that you've read over the years? Which ones have stayed with you; which ones have caused you to change something about yourself (be it your thinking, dress, whatever)? (If anyone has any Corporette posts — or comments — that have stuck with you I would LOVE to hear which.)
Pictured at top: September 1943 Woman's Day Magazine, originally uploaded to Flickr by clotho98. Social media photo credit: Pixabay.