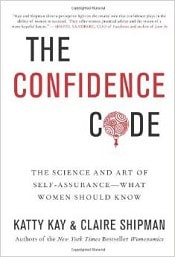 Ladies, let's discuss
The Confidence Code
. There's the book, of course, and a lengthy excerpt appeared in
The Atlantic
a few weeks ago now. (Full disclosure: I have not yet had a chance to read the book yet, and suspect I won't for a while. But the article is chock full of things to discuss — particularly among overachieving chicks like us.) Some questions at the start:
Would you generally call yourself confident, or not? Do you consider yourself competent, particularly compared to your male coworkers or classmates? Have you found that your personal assessment has changed through the years (perhaps as you got farther away from school)? And here's the important one: what changes have you made in yourself to address these challenges? What changes have you seen friends or coworkers make? (A flip side to the question: can you describe your most confident female friend or coworker? How can you be more like her?)
  (Stay tuned tomorrow when we have a more specific discussion about imposter syndrome — let's try to keep the discussion today focused on confidence.)  We've had some other great discussions before about
Lean In
, as well as our own Corporette take on
where you think you'll be in five years
or ten years (inspired by a NYT article following up with women lawyers from 10 years ago) — I also think this book ties in a bit with
Harvard Business School's recent drastic efforts for gender equity
. Some highlights from The Atlantic excerpt of
The Confidence Code
:
Women wait for perfection:  "Underqualified and underprepared men don't think twice about leaning in. Overqualified and overprepared, too many women still hold back. Women feel confident only when they are perfect. Or practically perfect." Yes. Perfect is the enemy of good — and done is better than perfect. From another section: "Women applied for a promotion only when they met 100 percent of the qualifications. Men applied when they met 50 percent."
Overconfident, incompetent people get ahead:  "Infuriatingly, a lack of competence doesn't necessarily have negative consequences. Among Anderson's students, those who displayed more confidence than competence were admired by the rest of the group and awarded a high social status. 'The most confident people were just considered the most beloved in the group,' he said. 'Their overconfidence did not come across as narcissistic.'"
School and life have different barometers for success: "As Carol Dweck, a Stanford psychology professor and the author of Mindset: The New Psychology of Success, put it to us: 'If life were one long grade school, women would be the undisputed rulers of the world.' … And yet the result is that many girls learn to avoid taking risks and making mistakes. This is to their detriment: many psychologists now believe that risk taking, failure, and perseverance are essential to confidence-building. … What a vicious circle: girls lose confidence, so they quit competing, thereby depriving themselves of one of the best ways to regain it. They leave school crammed full of interesting historical facts and elegant Spanish subjunctives, proud of their ability to study hard and get the best grades, and determined to please. But somewhere between the classroom and the cubicle, the rules change, and they don't realize it. They slam into a work world that doesn't reward them for perfect spelling and exquisite manners. The requirements for adult success are different, and their confidence takes a beating."
For my own $.02: I would call myself confident, but only to a point — I hold myself to fairly high levels of success and often feel like a failure when little things go wrong. Am I competent? As a lawyer I would rate my competence (or perhaps, more accurately, my confidence in my competence) somewhere in the middle of the pack, at least among the folks I've worked with and graduated with. As a blogger I would rate my competence much higher, but only because I know what my numbers are (traffic and money), and assume they're good compared to most other bloggers. Still: I know I could be doing more, making more, bringing more traffic, and these things haunt me. To me one of the most interesting things about this topic is how the equation changes once women leave school — I call it "gold star confidence." I've always been plagued by these insecurities, but they would abate once I got my gold star — my A in the class, my 100 on the paper, my good-enough LSAT/SAT/AP test score. I would think something like, "well, apparently my effort was good enough, even though *I* know I could have done more" and take that with me into the next round of classes, or to the next paper. On the flip side, once I began working (first as a journalist, then later as a lawyer), there were no gold stars. Particularly in BigLaw, there was just a lockstep paycheck and bonus with the rest of the lawyers in my class. My confidence got weaker without the constant stream of gold stars, and any "wins" we experienced seemed completely attributable to a group effort. As I've said
before
, part of the reason I like blogging and owning my own business is because I can focus on numerical metrics for success and give myself gold stars. If we're just focused on confidence, that it's really fascinating to think of the most confident people I've known. In my younger years, I think, I accepted confidence more easily — the older I get the more I view it warily. For example — if you have not read the
Atlantic excerpt
yet, go and do a word search on "Rebecca" and read the bit about the two hypothetical employees, Rebecca (quiet and careful) and Robert (bursting with ideas, many of them wrong and dumb). I have TOTALLY known many, many Roberts through the years — mostly men, but a few women. And of course they're the ones who get ahead. But I don't think to myself, "ah, he's brilliant!" or "he deserves that promotion more than Rebecca!" But I admire him for his lack of self awareness, and ability to loudly stumble onto one or two great ideas, and, I suppose, for his lack of shame at wasting people's time with the bad ideas. But then, I'm not sure I would want to live in a world full of Roberts — the Rebeccas are necessary to, you know, get stuff done and get it done right. So maybe we need the Rebeccas to stop enabling the Roberts — and, fine, fine, be a teeny, tiny bit more like them. When I took the
confidence quiz
, I thought I was answering smartly (ha! I am absolutely certain that I am neutral about rugby!) but still got "low confidence." The quiz suggested tips such as "get focused," "be grateful" (which I totally agree with — but seems like chick advice), ban NATs (negative automatic thoughts), and face failure. Many of these tips are things that I've already been trying to implement, but instead of "boosting my confidence" I've been thinking of it more as, "keep moving forward — 
like a shark
— because there is no time for self doubt and lack of focus."
I'm curious, ladies — what did you think about the article? Do you identify with the Roberts or Rebeccas more? Do you suffer from low confidence — and if so how are you addressing that?
We are a participant in the Amazon Services LLC Associates Program, an affiliate advertising program designed to provide a means for us to earn fees by linking to Amazon.com and affiliated sites.