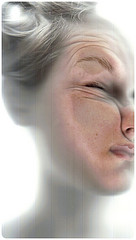 So here's a fun question: 
how has your skincare routine changed through the years?
For the older readers, when did you notice that you needed to add a little "somethin somethin" to your routine? Do you think particular brands matter, or is it just important to do something?
  (For example: does a particular brand of eye cream work better than the others, or does your eye area just need extra moisture and any eye cream will work as long as you're consistent?) 
(Pictured:  wrinkles – part I, originally uploaded to Flickr by kroszk@.)
For my $.02:  For the most part, my skincare routine is roughly the same as it was when I first settled onto it at as a pre-teen. Most mornings, I wash my face with
Basis
, and (once I'm out of the shower), I follow up with a light moisturizer with SPF in it (usually
Neutrogena's basic one
sans retinols, but I'm still finishing a container of
Kimberly Sayer
that I bought during my pregnancy because it had proper zinc oxide instead of chemical SPF). Things I've added over the years:
–
Stuff I no longer do:
  Toner/astringent. I used this a lot during my teen years but don't any more because it seemed too drying. I also used to use a lip exfoliant pretty regularly, which I almost never do now — it may be because I tend to wear lighter glosses and tints instead of heavier lipsticks, but it may also be because of my nighttime lip routine. I also never try new products unless I'm in the market for something particular — I credit my generally good skin to my consistent routine (and good genes). As you can tell, I'm a big fan of drugstore skin products.
How about you guys — what is your skincare routine like? How has it changed over the years?