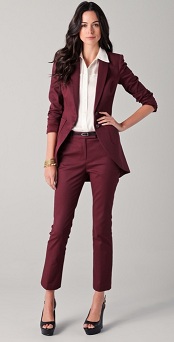 For busy working women, the suit is often the easiest outfit to throw on in the morning. In general, this feature is not about interview suits for women, which should be as classic and basic as you get — instead, this feature is about the slightly different suit that is fashionable, yet professional.
Ok: lots to discuss with this suit. The pros: gorgeous color. Love the tonal piping and patch hip pockets, and I love the curve to the jacket. But… how do we feel about the silhouette? Longer jacket, shorter pants… I wish she had made a matching pencil skirt for those of us who just like the blazer. The styling at Bergdorf Goodman makes it look almost ringmaster-ish, though, and brings up the unfortunate point that this color of winey red is hard to pair with other colors. (Although for my $.02, I'd love to see it with a pale blue blouse or sweater, but that's me.) The jacket (Kenny Tail Suit Jacket
) is $525, and the pants (Anne Cropped Pants) are $295.
P.S. Albert Nipon, please make this suit in a color other than hot pink. Tks.