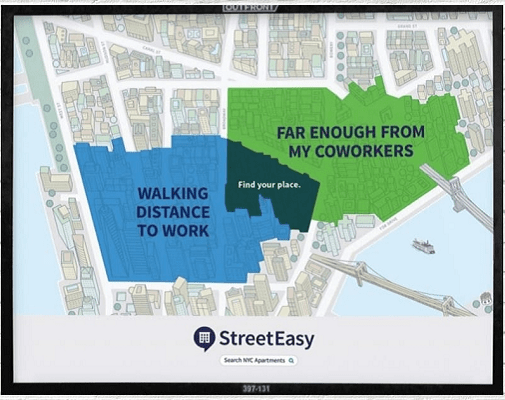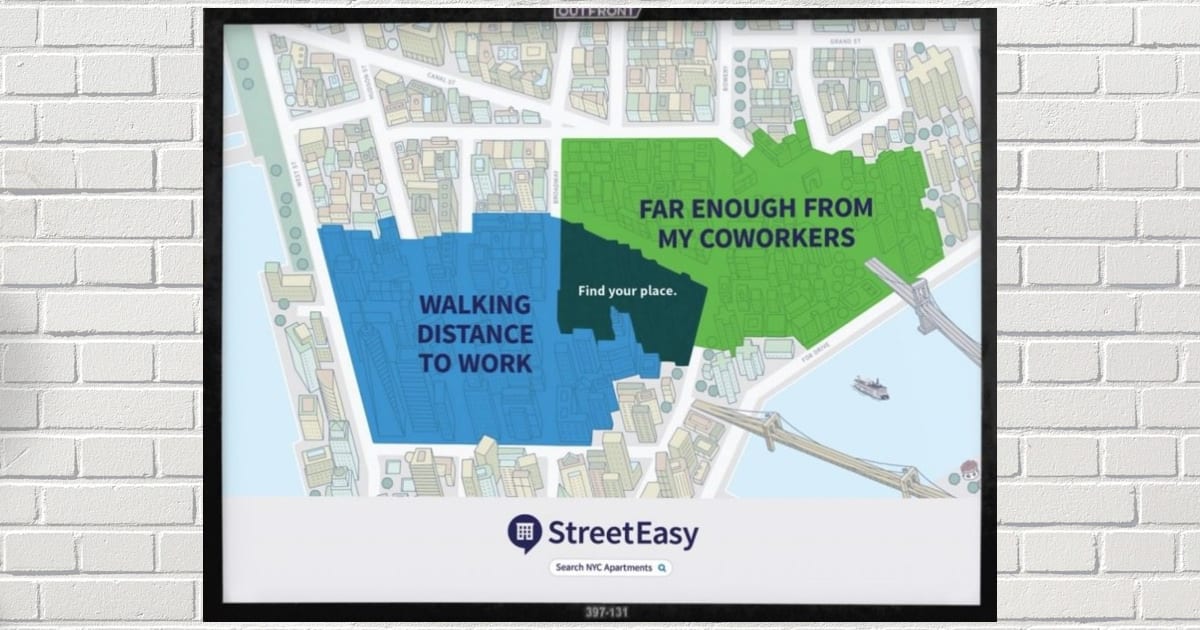 There's an amusing Streeteasy ad campaign in a lot of NYC subway stations right now, with Venn(ish) diagrams like this one, and I thought it might make for an interesting discussion here. Why did you choose to live where you do? What do you think the benefits of living closer to work are — vs. farther away? Do you prefer to have some separation between work and home? In general, what was the most important factor for you in choosing where to live — living closer to work, being in a good school district, having an amazing apartment, or something else? We've talked before about how where you choose to live can be one of the most important money decisions you make, as well as how to decorate your home and even when to buy a home, but we haven't really talked about the pro and cons of living closer to work or farther from work.
For my own $.02, I learned about my own preference for NOT living closer to work through a mistake I made many moons ago, in my single-lady lawyer days. I had always been a Manhattan girl, and after unsuccessfully looking to buy a studio in the city, I decided to move to Brooklyn for a year and see if I liked it. Well, I hated it. The one-bedroom on Clark Street that I chose was an upgrade over my former studio at 15th and 5th, to be sure, but that was where the pros stopped. The radiators ran way, way too hot… the kitchen was depressingly small and old… and I had a whole theory about how dating was way, way harder because getting to different boroughs was easier with one person based in Manhattan. (I even remember feeling like a Brooklyn/Brooklyn relationship was difficult if your subway trains didn't align!)
The most surprising thing I learned was that I absolutely HATED everything about the work-life balance that came with the apartment. The commute that had looked amazing on paper — there was a subway entrance across from the apartment, and it was only one stop away from the office — meant that I didn't "see" anything while I was going to and from the apartment. I didn't pass stores or restaurants on foot on either side of the subway, and I was really surprised by how much I missed that casual, window-shopper type of experience. Plus, I've always hated the subway and at the time spent way too much of my budget on taxis to work — but on nice nights, if I got out early enough I had loved walking home. Both of those options were difficult in my new location. I had to go out of my way by several blocks to find a cab if I wanted to get to work, so the subway really was easier. If I walked home on nice nights, I had to cross the tourist-filled Brooklyn Bridge, and once again I wasn't passing any shops or restaurants. Even on the weekends, I was surprised by how much my apartment depressed me because it was in such a residential area. I felt that "just popping out" for food, shopping, a walk, or whatnot was much more depressing.
It's important to note that, at the time, work was really the only thing in my life. I went out on the weekends with various friends, of course, but my daily routine was completely centered around going to the office. I realize that having kids or even a serious partner would have made the work-life balance different — I could "see" things on the walk to daycare or school drop-off, I could have regularly looked forward to meeting my partner near his office or apartment, etc. — but as that point in my life, living closer to work was not for me. (Fun fact: I moved back to the city after one year… and promptly met a Brooklyn boy, who is now my husband. Of course.)
What do you think, readers? Do you prefer living close to or far from work? Do you see more disadvantages or advantages to living closer to work?