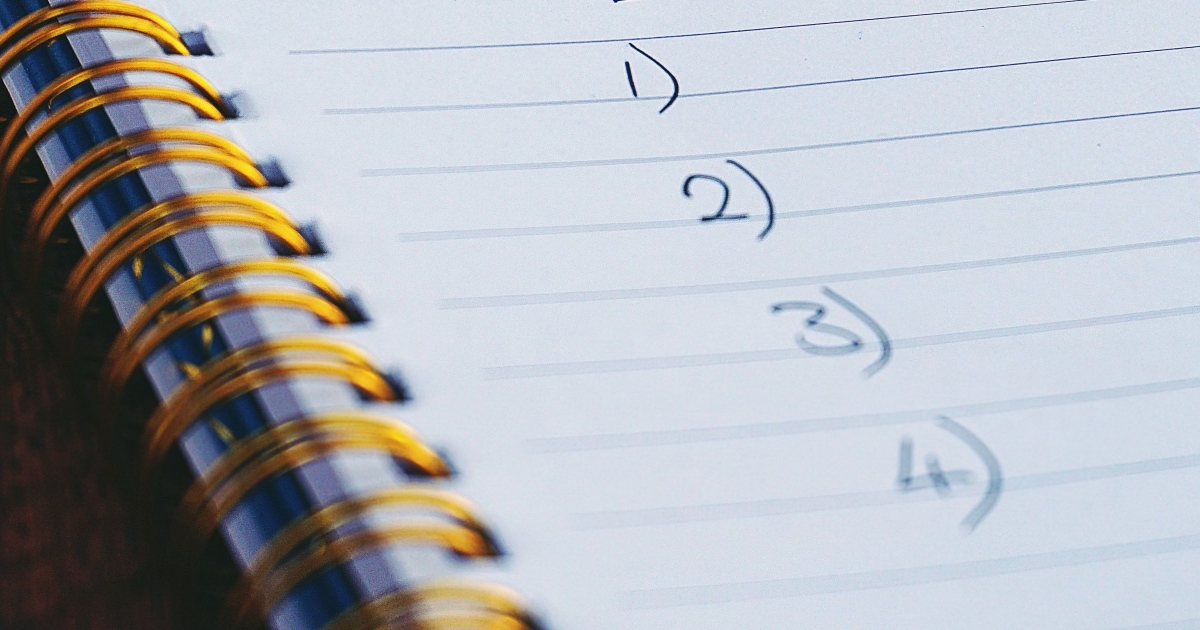 I am kind of an obsessive list-keeper and note-taker. Back when I had a Palm Pilot, it was filled with 'em; now that I'm on Android I'm still happily using the program B-Folders to keep track of my myriad lists. Am I crazy? Sure. (All the best people are.)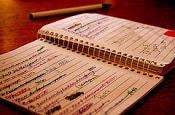 But I sometimes really marvel at how useful my odd little lists are, so I thought we'd discuss — are you guys fond of lists? Have you found that certain "weird" lists you make are really helpful from an organizing/productivity standpoint, either for life or work?
For my own $.02, here are some of the weirder lists I keep that I've found to be ridiculously useful (and how I use 'em):
"Health" lists / diaries. I've kept track of every cold I've ever had since about 2000 — symptoms, duration, treatment. It was through this list that I realized that I seemed to have the same "cold" every spring — and switched to OTC allergy treatments instead. I also have a habit of starting a specific health diary as soon as something weird starts happening.
For example, a few years ago I started experiencing vertigo a lot, so I started keeping track of anything that I thought might have be a cause — my diet, my sleep, my stress, my exercise, etc. The problem kind of disappeared on its own, but if it ever comes back I can always go back to the list and see if there are any common denominators.
I have a similar list called "headaches of note," and when I suffered from canker sores I kept a list for that too. (They just kind of went away on their own!)
(2020 Update: See Kat's health chart here!)
Ingredients in my kitchen. I'll be the first to admit that I'm not great at cooking. But over the years I've attempted enough recipes that I've collected a ridiculous number of uncommon-for-me ingredients in the kitchen, from achiote seeds to oyster sauce. So I keep a list of which ingredients I have, when I bought them, and when the marked expiration date is.
That way, when I decide at the last minute that I want to try a new recipe, I don't have to go rifling around in my kitchen to figure out what we might have — I can just check the list. It also prevents me from saying, "don't worry, we JUST BOUGHT white pepper!" and then realizing that it expired in 2008.
Notes on diets / grocery lists. Lately, I've just been trying to eat whole foods as often as possible, but I have been known to flirt with food-restrictive diets from time to time (I did Atkins in law school and then in short spurts for a few years thereafter… then South Beach some time after that… and then for about six weeks last year I did Slow Carb, and may try it again soon).
There are a lot of similarities between the diets (hint: no bread) but a lot of differences too, and since I've done all of them I tend to get really confused. Are beans allowed? Nuts? Only low-fat cheeses? Only high fat cheeses but in small quantities? So I just keep a simple list of which foods are allowed and which aren't and then I don't have to wonder.
When I was really keen on Weight Watchers I kept notes on which meals I might order at different chain restaurants, with the Points info for both the low calorie options as well as my more "regular," higher calorie meals, and I religiously did check those lists every time I visited my family in Ohio.
Summer dinners / menus. It always seems to come as a surprise to me when it gets to be hot and disgustingly humid in NYC (YUCK), and it also always surprises me how much I hate to stand over a hot stove or be around a hot oven when it turns disgusting outside. So I keep a list of quick/easy summer meals that we enjoy that don't involve the oven.
(These aren't particularly healthy or interesting meals — "bread and cheese" makes the list — but at least I don't have to rediscover the wheel every summer.)  Similarly, I keep lists of things like "2 week low carb meal plan" of things that I am always happy to eat for at least the first two weeks and help me kick off one of my low carb phases.
Money spent on trips. We don't vacation often, but it always comes as a surprise to me how much airfare/hotels/everything else costs. So I keep a list of what we paid on various things for previous vacations — that way I can consult my memory and current prices and decide if we're getting a good deal on something.
I similarly keep a list of prices we've paid for different furniture pieces — it helps me gauge how much a new piece is "worth" compared to an older piece, and it also helps assuage whatever guilt I may feel about replacing furniture pieces. ("Well, we paid $200 and have used it for ten years, so I don't think we should feel too bad about just donating it.")
Oh, and I don't keep this in my phone/B-Folders system, but I did recently start keeping a Excel spreadsheet of yearly health numbers, inspired by a Real Simple article. I went back and looked at the data I'd kept from previous doctor's appointments (I have a tendency to scan blood test results into my computer) and filled out what information I had for myself, with a separate spreadsheet for my husband and son. I may not understand the majority of the numbers or what they mean, but it gives me the ability to note a trend.
For example, my triglycerides readings are still really low (according to the Real Simple article they should be below 150), but I can go back to my notes and say, "Ah, my reading was 43 in 2000, then 59 in 2004, then 69 in 2010, and 79 in 2011. I should bring that up the next time I'm at the doctor's."
I've also started keep an Excel spreadsheet of notes on different sizes/brands/styles that I've tried — I tend to return about 80% of what I buy online, so I can never remember if I liked a particular item or not, and if I did what size I was in it (particularly with shoes and bras!).
Readers, do you keep lists? Do you have any that are surprisingly helpful?
2020 updated images (1-4 list) via Stencil. Originally pictured: 0610 list, originally uploaded to Flickr by paloetic.