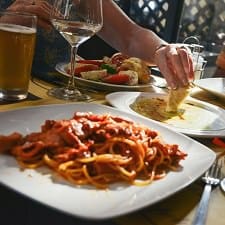 Update: While we still stand by these easy weeknight dinners (Kat's still making them!), you may also want to check out our most recent roundup of 5 all-day crockpot recipes and 5 super fast Instant Pot recipes. 
For busy women, preparing dinner all too often falls into the "takeout" category. (I'll admit it: I totally lived off Seamless Web during my law firm years.) But preparing your own meals at home can be so much better — not only do you know exactly what's in the dinner, it's almost always cheaper and healthier to make it yourself. We've talked about how the crockpot is amazing for quick, easy dinners, my best tips on how to freeze food without a vacuum sealer, as well as great grab-and-go foods for snacking and lunches, but we haven't totally hit on Reader K's question before:
I'm starting my first biglaw job next week and I'm looking for a few easy workweek dinner ideas. My husband and I try to avoid eating takeout more than 1X per week, but I'm not sure how I'm going to manage cooking dinner every night with my new schedule. Do you have any advice for making quick and healthy meals during the week?
I can't wait to hear what readers will say! I know we've talked about the crockpot before, but I really do have to stress how great it is — you prepare food in the morning when you still have energy and the best intentions, and you come home to a dinner that's usually ready to be served up. (And crockpot liners
make clean-up super easy, too.) I have a few other ideas for easy weeknight dinners, and I'll also list some of my absolute easiest recipes below — I'm a totally lazy cook!
Oh, I'll mention a few other ideas for easy weeknight dinners:
– Cook for a month (or two months, or three months) in advance. We did this about a month after the baby (why not before, I have no idea). We spent one weekend making about 8 different recipes (some of them doubled) and then freezing them all so that all we had to do was pull something out of the freezer in the morning. It was an intense weekend of chopping and cooking and checking recipes (and I think we had both crockpots going full blast the whole time, as well as some stuff on the stove) — but if memory serves we got 24 nights of dinners out of it, and it really was great to just pull stuff out of the freezer. There are blogs and books
about this if you're interested; we just chose 8 recipes that used some of the same ingredients.
– Sign up for a meal-planning service. There was just a NYT article about this — for a fee you can sign up for different services that will plan your meals for you based on goals (low carb, low fat, healthy, vegan, etc), what's in season, and sometimes even what products are on sale locally. I haven't signed up for any of them yet, but I am intrigued.
– Do some prep work in advance. Anything you can do the night before — pulling ingredients out of the cupboard, measuring spices, opening cans, etc., can all make it that much easier to will yourself to cook when you get home. (It's also a great way to get other people in the house involved — my husband probably cooks more than I do because I'll ask him to open some cans before he leaves in the morning, and he'll end up putting the entire recipe together.) Pre-mixed spice rubs are also a great way to save time (whether made by yourself or purchased) — we frequently will eat white fish with spicy cajun spices on it, or roasted chicken with creole spices — all you really have to do is just put the spices on and cook it.
– Get takeout — but try to be healthier. There's nothing wrong with takeout, but you don't want it to involve a fast-food restaurant too often. Swinging by a deli or grocery store to pick up things like grilled or roasted chicken, marinated vegetables, salad fixings — that's all really easy. Even getting a fresh baguette and a fancy cheese or two can be cheaper and healthier than having a full dinner a restaurant.
OK, without further ado, my absolute easiest 5 recipes.
Chicken Tacos (Crockpot)
Place chicken breasts in crockpot (frozen or unfrozen — if frozen, just cook for 1 hour on high at the beginning).
Dump half jar of salsa in. Maybe add a can of black beans (rinse them well).
Cook for 6-8 hours on low. For dinner, eat as tacos, quesadillas, or just as meat for the salad. (Use the leftover salsa for the meal.)
Beef Bolognese (Crockpot)
Brown ground beef or turkey on the stove. I'm a fan of Trader Joe's 95% lean ground beef.
Dump meat in crockpot. Add frozen onions if you like.
Dump jar of spaghetti sauce on top.
Cook for 6-8 hours on low.
30 minutes before serving, add bag of frozen broccoli.
Serve with pasta.
Roasted Chicken (Crockpot)
Wash chicken. Remove bag of giblets and other yucky things.
Pat/dump spice rub on top. (I'm a fan of this Creole mix — it's also amazing with broiled shrimp — but you can purchase them also.)
Dump chicken in crockpot, possibly with frozen onions.
Cook 6-8 hours on low.
Creole Salmon (Oven)
Preheat oven to 350.
Put salmon on aluminum foil. (I'm lately a fan of Verlasso salmon from Fresh Direct.)
Dump Potlatch rub on top. (I got this blend from my mother and it's especially for salmon, so we've used this one instead of our own blend.)
Add parbaked wheat rolls and possibly an ear of corn.
Cook at 350 for 30 minutes.
Pulled Pork (Crockpot) (from WebMD)

Dump pork tenderloins (about 1.5 pounds) in crockpot.
Add 1/4 teaspoons of garlic and pepper, and 1/2 teaspoon of salt.
Dump bag of frozen onions inside.
Add 3/4 cup of jar of barbecue sauce (your choice).
Add 1/2 cup of beer (non-alcoholic if you have it, or light beer).
Cook for 6-8 hours, serve with fresh wheat rolls.
Readers, which are your favorite tricks for eating healthy dinners? Share some of your favorite easy weeknight recipes with us!
Original picture credit (2012): Chung Chu via Flickr. 2018 Updated picture credit: Stencil.