Sure, we all know what basics professional women are supposed to have in their closets, but if you're buying one for the first time or replacing one you've worn into the ground, it can be a pain to find exactly the right incarnation in stores. In "The Hunt," we search the stores for a basic item that every woman should have.
We haven't rounded up the best camisoles for layering (or demi camisoles) in far too long — so let's discuss.
Which are your favorites, ladies? What do you like about them — simplicity, stretch, shaping powers — something lacy or pretty? — or fun colors or prints to add a pop of color or fun to an otherwise basic outfit?
What color camisole do you think is best under white blouses? (I'm on Team White all the way!)…
Some of our Hall of Famers are below:

Pictured above, our favorite camisoles for work as of 2021: multi / beige / black / gray / black — don't forget about demi-camisoles too, such as this, this or this — or chemisettes!)
This post contains affiliate links and Corporette® may earn commissions for purchases made through links in this post. For more details see here. Thank you so much for your support!
Another minor note: if you're inclined to wear a camisole to prevent a gaping problem, such as with a wrap dress, you may want to check out some of our favorite products to prevent gaping…
Some of the top products to help you fix a gaping blouse include:

Above, some solutions for gaping blouses: 1) Topstick toupee tape 2) double-stick medical tape 3) Flash Tape 4) Fearless Tape 5) black & white and colorful safety pins
The below content concerns products that may be sold out.
Heading up the list: the $4 cotton camisoles from Old Navy. There's nothing too fancy about these, but that's kind of what's great about them — they wash up easily, have adjustable straps so you can make the neckline as high or as low as you like, and, ah yes, they're $4. I'm surprised to see that they seem to be phasing out the Tami style (a hybrid between a tank top and cami); right now you can buy a 3-pack in regular sizes or a bunch of colors in maternity sizes. Note also that if you like a demi camisole instead, a lot of readers have sung the praises of Old Navy and Gap pullover bras. The pictured tank is available in seven colors, sizes XS-XXL, as well as petite and tall sizes, for $4. Pictured: Scoop-Neck Cami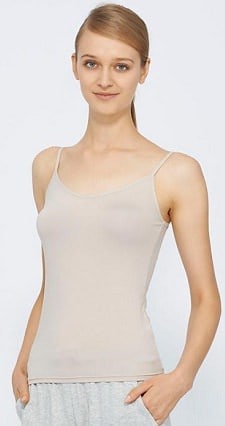 I've yet to try Uniqlo's new AIRism line, but if you're looking for something to keep you "dry and comfortable year-round," give these a try. Note that Uniqlo also makes camisoles in its Heattech fabric, if you want a layer to help keep your body warmth in wintertime; Lands' End also has camisoles in their Thermaskin line. The pictured tank is available in six colors (two beiges!) for $12.90. AIRism Camisole
Readers used to love the Shimera line at Nordstrom — interestingly, if you search for it, these identical-looking tanks and camisoles come up. If you're looking for more of a seamless camisole — and one that won't "stick" to your layers the way cotton can — I'd start the search here. These two-way seamless camisoles have both a scoop neck and a V-neck, if you're sensitive about your bra straps showing beneath your camisoles, the two-way seamless tanks are great as well. (Talbots has a similar thick-strapped seamless camisole in regular and petite sizes.) The pictured camisole comes in eight colors, sizes S-XL, for $28 (or, two for $48). Nordstrom Lingerie Two-Way Seamless Camisole (2 for $48)
I've picked up a few of these Ann Taylor camisoles on deep discount over the years, and have been happy with them. (I have a fuchsia one that hasn't faded at all despite a ton of wear and regular machine wash/tumble dry laundering.) They're 92% polyester, 8% spandex, and machine washable; currently Ann Taylor stocks them in 8 colors (three beiges!), sizes XXS-XXL, for $30 — but right now if you buy one, you get the second 50% off. Stretch Cami
To be honest, I'm not personally a fan of shaping tank tops — they all seem to roll up on me or otherwise pinch me in the wrong places, and in general I'd rather just wear an underbust bodysuit or highwaisted shaping briefs, and add a camisole or demi-cami on top. But if you like your camisole to also be a shaper, these Yummie ones are some of the best — they've been around for ages, have 90 good reviews at Nordstrom, and come in a wide variety of colors. The pictured top is $34 at Nordstrom, or you can get 2 for $58. Yummie by Heather Thomson 'Stephanie' Two Way Shaping Tank (Regular & Plus)
I always think of Hanro as being the gold standard if you want simple, classic, well made undergarments — and this cotton seamless camisole is a great example. I like the tiny bit of satin edging (I'm against lace on camisoles for work, even as a trim — too boudoir), and the fact that select colors are on sale right now at Saks. The pictured tank is available in eight colors, sizes XS-L, for $37-$62. Hanro Cotton Seamless Camisole
Like this feature? Check out other recent installments!