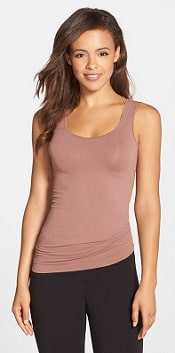 Which are the best camisoles to layer beneath blouses? Is a seamless camisole important, or a nude-for-you camisole? Or is a white camisole the best thing under a white blouse? Reader S has a question, and I thought it might be a fun topic because I've said before: I am a fan of plain, non-lacy white or black camisoles (with a nude-for-you bra) beneath sheer blouses, rather than "nude" camisoles. They make it clear to the non-fashion people you work with that it's safe to look at your blouse — a solid camisole avoids that weird Barbie look of "it's sheer and I think I see skin but there's no bra or nipple and I'm so confused…" I also think it streamlines things in your closet, because if you need a camisole to raise the neckline of a dress, you'd want a white or black one anyway. But maybe I'm in the minority. Here's S's question:
I recently got several lovely silk button up blouses. I love the feel and look, and the step-up in fabric. However, they are kind of sheer. I have been searching high and low, and can't find a good nude camisole that doesn't show all the straps and seams and edges under the silk, making it look cheap and not well put together. Not the look I'm going for. Why can't they make the camisole equivalent of these panties?

In addition, most of the "nude" camisoles I have found look like they're nude on a banana cream pie, but not on me. like this one (pictured at right).
I'll weigh in with a few answers for S, but I'm curious to hear what readers say about this whole issue.
Seamless camisoles do exist. When we last rounded up the best camisoles for layering, many of the reader favorites were seamless, include the Shimera brand (now just sold under Nordstrom's label). Again, I'm not a fan of a "nude" camisole, but it is refreshing to see that they at least have more than just beige (pictured at top: "tan thrush," available during the anniversary sale for 2 for $30, or $17.50 each (normally $28). Another good one to take a look at: this "whisper tank" from Commando, a company that's one of the OGs as far as seamless thongs and briefs. Both of these options have thicker straps, which I like because they hide your bra straps. A few more options for you on the affordable side, both of which got shoutouts during our last discussion on favorite lingerie: Ann Taylor (you can usually get them during sitewide sales!) and Jockey.
Readers, my Googlefu is failing me — what companies cater to various shades of "nude"? There used to be a company called MySkins, which looks like it is now defunct. I found a company called Nubian Skin that has different bras, panties, and hosiery — but no camisoles. See, another reason to not like "nude" camisoles. :)
Finally, a note on the silk blouse itself, "showing all the seams and edges under the silk." A big problem with more affordable silk blouses is that they often do show all the seams and edges of the blouse itself… if that is what Reader S meant (I can't quite figure out if she's referring to the seams of the camisole or the seams of the blouse), it may just be one of those blouses that is better for wearing beneath vests, sweaters, and more.
Ladies, what are your thoughts? Are you Team Nude Cami, or are you on my side with white camisoles beneath white blouses? Readers who like nude camisoles and other items, what are your favorite brands that "match" your skin (and what skin tone do you have)?  
—————
N.B. These substantive posts are intended to be a source of community comment on a particular topic, which readers can browse through without having to sift out a lot of unrelated comments. And so, although of course we highly value all comments by our readers, we're going to ask you to please keep your comments on topic; threadjacks will be deleted at our sole discretion and convenience. Thank you for your understanding!