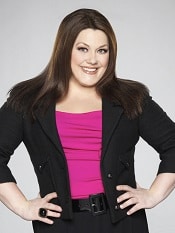 2020 Update: We still think this is a fascinating discussion of how to deal when you can't button your blazer, but you may also want to check out our more recent roundup of busty blazers.
Hot on the heels of yesterday's reader question about feeling frumpy in a suit, I was thinking about Drop Dead Diva. I stopped watching the show a while ago (her guardian angel was still the guy from Mad Men back when I watched), but I'd always wanted to do a 360 review on the lead character, lawyer Jane Bingum, and her fashions, if only because she's one of the most stylish and plus-sized TV characters I can think of. I have some problems with her fashions, though — the ridiculously high heels, the overdone makeup, etc, etc. My BIGGEST problem, though, has always been that the vast majority of her blazers couldn't be buttoned (not even kinda-sorta) — the picture at left demonstrates the problem.
But then, as I was falling asleep last night, I started wondering: maybe I'm the one who's been wrong to think that a blazer must button all these years. Maybe the trick for a busty girl (or an overweight girl) — short of massive and expensive tailoring — is to buy jackets that fit in your arms and back only, but not worry about it fitting across the bust. This flies in the face of everything I know about suits — but when I think about it, Jane definitely does not look frumpy. I might say this is one of those times that your fashion sense speaks to your judgement — were this a 360 review, I might say as either an underling or a boss I would wonder why she didn't buy suits that fit — but again, I'm rethinking this now.
Psst: 2020 Update: These are some of our Hall of Famer heels that come in wide widths… see our latest roundup of the best black heels for business attire here!
pictured: 1) Sam Edelman 2) Naturalizer 3) Rockport 4) Vionic 5) Cole Haan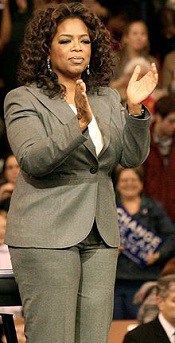 I am really not into critiquing real women's clothes choices (the point of the 360 was always that we would only look at the character, not the actress), but I DID just run an image search on Oprah in a suit, since presumably she has unlimited resources and enough stylists advising her that her on-air persona might be fair game. That said, it looks like most of her suits have buttoned — I would say the picture at right is an amazing example of a well-tailored blazer where she looks professional and stylish.
Readers, what are your thoughts on how a blazer should fit? If it can't be buttoned, is it a fit issue that reflects on your judgement?
Update: Looks like Angie at YouLookFab has given her readers the go-ahead to buy blazers that don't close. On the flip side, I reached out to my friend Kathryn, who wrote our guide to plus-sized blazers, and she thinks the three-inch gap in the Drop Dead Diva picture is one of those looks that only works for TV. "I think if you get a blazer that buttons (but maybe pulls when you are all buttoned up) but leave it unbuttoned you can eliminate some extra fabric and still not get side eye (even if it's just in your mind)." Kathryn's latest favorite blazer is this Style & Co. one, which has enough spandex in it to fit properly without pulling.