2018 Update: We still stand by this advice on how to get the perfect plus-size blazer, but you may also want to check out our more recent post on where to find stylish plus-size suits for work. You may also want to sign up for CorporettePlus, our newsletter just for plus-size workwear!
The perfect fit for a plus-size blazer can be elusive, so I'm thrilled to introduce today's guest poster, Kathryn Rubino. In addition to being a plus-sized lawyer and overachieving chick, I'm proud to count her among my most fashionable friends. Pictured at top. – Kat

The search for the perfect blazer is age old, and for those of us on the plus-size side the issue can be compounded. (This writer has clothes between sizes 16 and 22 in her closet, though, at the moment, I'm lucky enough to be on the lower end of my personal spectrum.) So what's a girl to do? Tailoring is a great way to turn an unflattering, boxy jacket into a noteworthy wardrobe staple. Below are some tips to get the best fit out of your blazer.
– Darts are your friends! Darts are tapered tucks that can be sewn into your jacket to adjust the fit, and are particularly useful if you are going up a size to get better coverage up top if your body still nips in at the waist.
– The shoulder is key. One of the most difficult alterations (read: expensive) is changing the shoulder seam, so make sure that a jacket hits you on the shoulder–not on your arm. You may not consciously realize it, but a proper shoulder makes a jacket look polished and professional.
Psst: 2020 Update: These are some of our Hall of Famer heels that come in wide widths… see our latest roundup of the best black heels for business attire here!
pictured: 1) Sam Edelman 2) Naturalizer 3) Rockport 4) Vionic 5) Cole Haan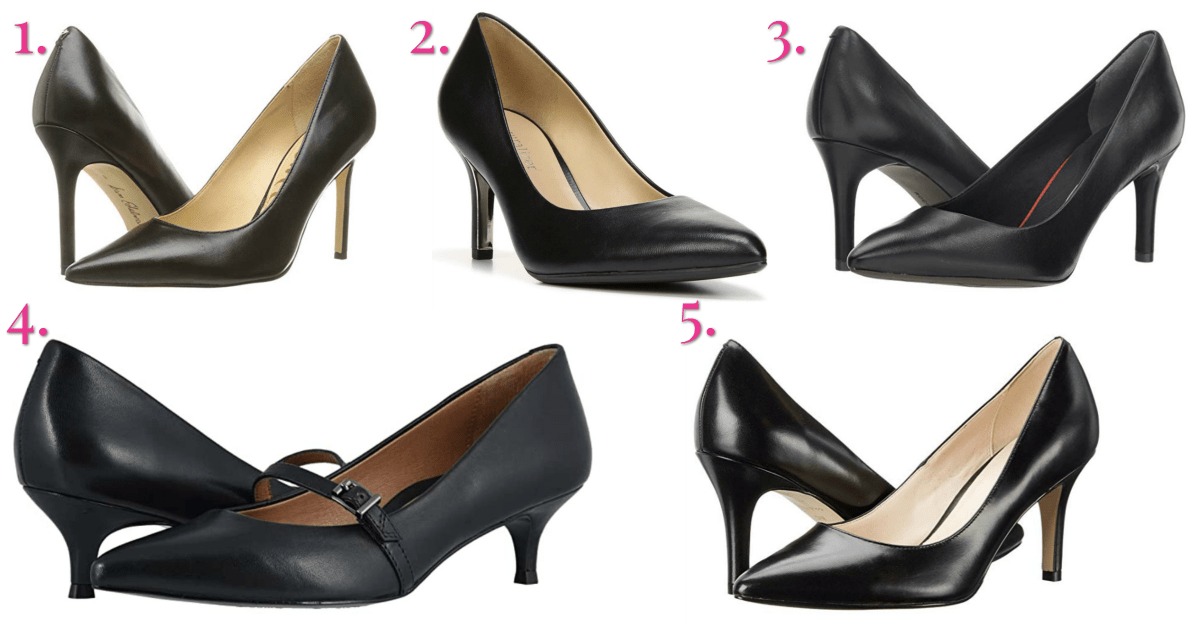 – Be comfortable. If you find the jacket ill-fitting or tight in places this fact will come through in the hundred little gestures and faces you make throughout the day. I often have the tailor remove the lining on the arms of my blazers so it doesn't feel as constricting and my range of motion isn't limited. You can also slit the seams of the lining yourself if the primary problem with a blazer is tightness in the arms.
– Sleeve perfection. The proper length of a full-sleeved jacket can be vexing, but I've found somewhere between the top of your hand and where your thumb bone starts to look the most "right". Any longer than that can make the blazer look sloppy and gets in the way.
– Mind your buttons. It may be true that a good blazer is like a good friend, but nothing says "this jacket has seen both sides of one too many crash diets" than missing or frayed buttons. Get your buttons replaced and/or reinforced. It is fairly inexpensive (and is an easy enough skill to learn for those DIYers) and most importantly, it keeps you looking like the well put together, overachieving woman you are!
One final note, when you find the perfect blazer there is a tendency to use it . . . a lot. That's completely understandable but it is truly terrible when the center back seam (or any seam) of a blazer has stitches that are pulling (when they look further apart then they should be). This comes from wear and tear, and sometimes, ill fit. If you see this on your blazer, call it. Retire the piece, mourn its loss and start the search for a new one. As a bigger girl you don't want your clothes to look like they may give out on you at any second, particularly in a professional setting.
Readers — of all sizes! — what have you found are the best tips for getting a blazer to fit properly? What do you most frequently ask your tailor to do?
This post contains affiliate links and Corporette® may earn commissions for purchases made through links in this post. For more details see here. Thank you so much for your support!
Interested in writing something similar for Corporette? Check out our guest posting guidelines.
Social media image credit: Deposit Photos / hsfelix.