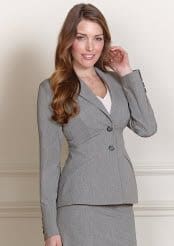 Which are the best blazers if you're small and busty? Reader K wonders:
One of my biggest obstacles when it comes to finding business appropriate clothes are my breasts. I feel like it's impossible to find a jacket or blouse that won't either pull or else drown me. Either my jacket is so big that I can't find my arms (and definitely not my waist) or I can't close it over the girls. I'm a 32G (by nature, not by choice) and a size two everywhere except my chest. I would like to look both professional and not like a child wearing her mom's jacket. I work in banking, so jackets are a must. (And yet, I'm young enough that I don't have the kind of funds to have tailor made clothes.) Am I all alone in the world? Is there anyone out there who makes professional clothes for small women with large breasts?
Interesting. We've talked about whether jackets must button to "fit", how to dress professionally with curves, where to get blouses for the busty, and even how to find such clothes on a budget — but not how to find blazers that fit an hourglass frame. In our last thread on the best suits for small women, Theory seemed to be the winner, which you may want to try — but I've never found the brand to be particularly curve-friendly. (If you're petite as well as small-statured, here was our more recent thread on the best workwear for petites.) I'm curious to hear what the readers say, but here are some thoughts:
Get to know specialty stores for the busty such as Pepperberry, St. Bustier, and DD-Atelier. The problem of a small ribcage and large cup size may seem exotic by Victoria's Secret standards, but it's is a really common thing. (I was a 30F myself in my smaller days.) (Reader K doesn't say her height, but if you're on the petite side AND busty, I'd look for a small bust-friendly blazer first and then have it tailored to be more petite. Along those lines, check out this Alterations Needed post, and this Extra Petite post.)
Look into bespoke blazers. This seems less common than bespoke dresses, but Sumissura (formerly known as Tailor4less) offers custom blazers (as well as suits); blazers start at $149. A UK site, MoodbyMe, seems to offer the same, as does Moi-Même. (This list of bespoke women's suiting is still pretty good.)
London calling… You need a vacation, right? The few times I've been to London I've marveled at how almost all of the shops seems to accommodate a small ribcage/large bust situation. (While you're over there, consider swinging by Paris – this Reddit thread suggests a number of French brands that are great for small but bust-friendly blazers.) Failing a trip, you may want to consider trying some British brands with small sizes, such as TopShop, Boden, Marks and Spencer, and Dorothy Perkins (all of which have petite sizes as well).
If all else fails: look for blazers with a hint of stretch in them. Knit blazers, even wool/lycra blends, are going to be your friends.
Readers, if you're busty, where do you go for a blazer? Small statured ladies, which are your favorite blazers? In general, ladies, what are your biggest challenges for finding blazers that fit?