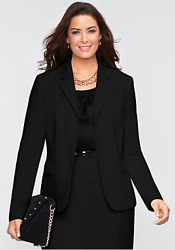 How can you feel confident during an interview when you don't feel the best in your clothes? A petite and plus-sized reader wonders how she can look her best, short of losing 40 pounds in a week:
Interview suits for the short and round. Please help! I admit it. At 5'2″ and a size 14/16 I am both short and fat (sigh! it kind of got away from me). For everyday work wear this isn't really an issue, but what on earth do I wear for a job interview? Suits typically come to mind for interviews, but with my lack of height and overall ROUNDness, typical business suits (pant or skirt) really aren't all that flattering on me. They tend to make me look even shorter and well, dumpy. Short of losing 40 pounds in a week, what job interview looks would you suggest? Note: I'm not in an ultra-conservative industry, but this would be for management level positions. Thanks for any guidance!
We've recently rounded up the best stores for
plus-sized workwear
(including for petites and sizes 16-18), we've talked in the past about how to buy (or tailor) a great
plus-sized blazer
, and of course we have our
Guide to Interview Suits
, but nothing quite addresses this. And I can suggest a few suits for Reader M (such as the
pictured Talbots suit
or
this Pendleton suit available up to 18P
), but that doesn't totally address the situation here (at least the one that I'm seeing when I read between the lines):  your confidence is taking a hit because of how you look. Take this with a grain of salt, as it is coming from another person who is deeply unhappy with her weight (one super stressful six-month patch in 2009 and I suddenly gained 25 pounds, followed by additional pregnancy pounds that refused to budge at ALL until recently — joy), but here's my $.02:
– You are not being hired for how you look (unless you're a model).
– Right now, you are in control of the things that an interviewer will rightly take into consideration about your appearance:
Properly sized clothes.  Ignore the size on the label, and buy the clothes that FIT YOUR BODY. If your clothes are clearly too tight, that reflects on your judgement. This is true for women of all sizes — if a size 4 decides to stuff herself into a size 0 suit, it doesn't look good. Another thing that's true for all sizes: cleavage (NONE should be showing — zero) and a conservative skirt length (if it's above your knees, reconsider, or at least use our interview mirror trick).
Neatness.  Neatness always counts in a job interview — and knowing that you're at the top of your neatness game can help boost your confidence. To that end, you may want to consider getting a blow out, getting a manicure, even taking that extra time with your makeup to feel put together. Again, I'd advise this for anyone going into an interview, but particularly here where you may want that extra boost of confidence. You don't have to look glamorous or beautiful, just neat. (This is similar to my theory on interview makeup — you just want to look awake and alive, not like you're ready to do a YouTube tutorial.)
Being comfortable enough in your own skin to focus on the interview.  If you're like me, the less confident you feel in your clothes, the more you're going to play with your hair, tug at your skirt, etc, etc. If you can't walk in your high heels, pick a different shoe. If your Spanx are too tight and you can't breathe, pick a different undergarment. If you're deeply unhappy with how you look in a standard skirt suit, this may mean that it's worth it for you to wear something other than a skirt suit for the interview — if you're more confident and feel more professional in a dress that's been tailored to your measurements (check out our round-up of bespoke dresses here), and an amazing blazer (maybe start here, here, here, or here), this may be the time to deviate from the norm.
Be confident.
  Walk in there like you own the place and have every expectation of being accepted and rewarded for the person you are, not the person you'll be in 40 pounds. As they say,
fake it 'til you make it.
Big hugs to you, Reader M: you can do this. UPDATE: I apologize to everyone who felt this title was incendiary — to me it's a totally normal feeling to have to struggle through of feeling "too fat" to do something — that additional noise created in your head when you don't feel "your best" for why you shouldn't do something already challenging. I usually try to keep the blog clear of my own body issues; my apologies for failing to do that in this case. Obviously no one IS too fat to do anything, and of course not for interviewing.
Readers, what are your tips on feeling confident in an interview when you don't feel like you look your best? If you are also plus-sized and petite, what is your go-to interview outfit?