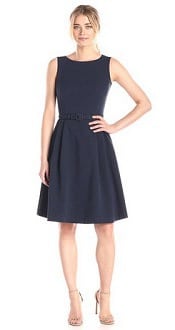 So you've switched from a freezing office to an office that's too hot — and going sleeveless at work may not be an option. How can you stay cool and comfortable at work? Reader C wonders…
I've read a lot of your posts, and in my old office lived by your advice regarding staying warm in a freezing-cold office. However, my new building has the opposite problem. Much of the time, especially now as we approach summer, my area of the building is very warm. As in, I-wish-our-dress-code-permitted-swimsuits warm (we are unfortunately business casual with an emphasis on the casual, but sleeveless isn't allowed). Some women, including higher-ups, wear sleeveless anyways. I've done this a few times, but feel awkward when I have to talking to our VPs (I do this fairly regularly) although nobody has ever said anything about my clothes. Any advice?
We feel for you, Reader C! It's been about a year since we talked about how to look professional when it's hot or professional clothes for summer; we've also answered readers' questions about "comfortable casual" workwear in a heat wave and staying cool when the heat is blasting in the winter. More recently, we've talked about summer makeup and summer hair, lightweight pants and lightweight blazers, and pantyhose in the summer.
To help Reader C, we've collected some helpful tips from Corporette readers on hot weather/hot offices — and added some of our own. We hope they'll help you stay cool (well, cool-er, at least), even if you don't go sleeveless.