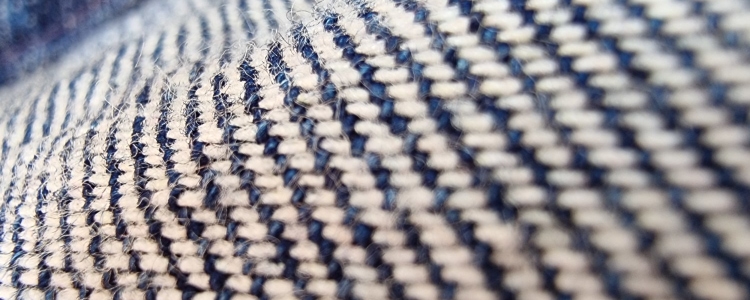 What are some guidelines for wearing tweed in the spring and summer? We talk a lot about "lightweight tweed" — but what the heck is it? (For example!) Reader C wonders when you can wear tweed in summer…
I was wondering if you could do a post on tweed — maybe a "Guide to Tweed" or similar. I frequently see you mention "lightweight tweed" for summer, but I'm not sure I actually know what that means. Can light/bright colours bring an otherwise heavier weighted tweed into the summer months? On a more specific note, I recently bought a cropped black and white tweed jacket from BR a little while ago, and I'm wondering if I can wear this well into the summer, or if it is more of a late winter/spring piece. (I couldn't find a picture of the exact one, but it's similar to the jacket at this link, just cropped.) Thanks!
What is the Difference Between Summer Tweed and Winter Tweed?
Interrrrrresting question, C. We've talked a lot about dressing professionally for summer, including how to avoid looking like a doctor in a white blazer, wearing pantyhose in the summer, and fabrics that are good for hot weather … but we've never really talked about what makes a summer tweed a "summer tweed." (On the flip side, we've talked about the propriety of bare legs in winter, and I agree with what I said there re: wearing winter tweed in the summer — it can be seen as a judgment call by your coworkers.) Now is a great time to talk about it because as spring starts to turn to summer, which tweeds you wear start to matter more and more.
Kate looked into this a bit, searching for a technical answer — from Encyclopedia Britannica, we learned the term "tweed" can apply to "any of several fabrics of medium to heavy-weight, rough in surface texture, and produced in a great variety of colour and weave effects largely determined by the place of manufacture."
I asked a friend with more fashion chops than I — the wonderful Julia DiNardo of Fashion Pulse Daily — who noted that to her, a "lightweight tweed is more of a contemporary notion to modernize the fabrication… a more lightweight summer version could perhaps be done in a combed and carded cotton, a supima-like feel, for ultimate softness."
When To Wear Tweed to Work in Summer
So here's my answer for how to know when a tweed is lightweight enough to wear in the summer: you'll know it when you see it (much like other things). 
Reader C is right that lighter colors will be involved — but just because there is white or beige or pastel in a tweed doesn't necessarily mean you can wear it year round.
Ultimately I agree with Julia that a summer tweed will have a much higher cotton content, whereas a winter tweed will have a much higher wool content. A lightweight tweed will physically feel lighter, less heavy than a more wintry tweed, which will feel thicker, warmer, heavier.
For example, these tweed jackets (below) read as very wintry to me. I suppose you could wear the colors in the two black/gray ones farther into spring, and earlier in fall — but I think these would look out of place in, say, July, even if the office A/C makes it arctic. (Pictured: Ann Taylor (19% cotton), Ann Taylor (86% wool), Michael Kors, Vince Camuto.)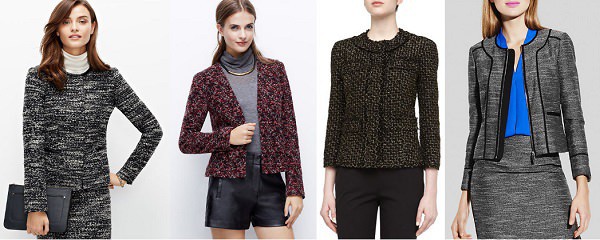 Meanwhile, all of the below jackets read very summery to me.
Note the lighter colors, sure, but also the much higher cotton content; some of them are blended with even lighter fabrics like linen as well.
While the jackets above would look out of place in July, these jackets would look out of place to me in January no matter how thick your bottom layer was (e.g., merino turtleneck or something). (Pictured:  Ann Taylor, Classiques Entier, Joie, J.Crew, and Oscar de la Renta.

I was going to try to round up a bunch of "seasonless tweed" — stuff at first glance that could be in either category — but looking at the pictures now I think they do fit into one category or the other. I'll post the graphic just for the sake of discussion. (To me: winter, winter, summer.) (Pictured: Ann Taylor, Zac Posen, Austin Reed.)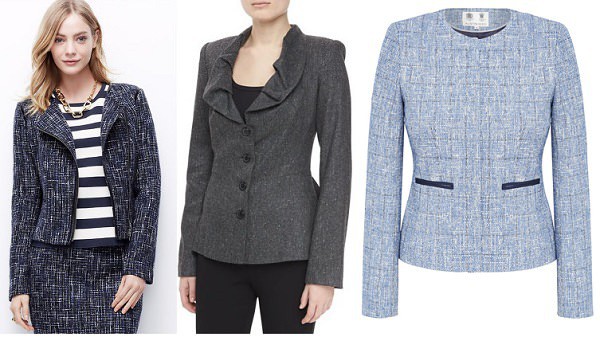 Ladies, what are your thoughts on tweed — what is the difference between summer tweed versus winter tweed? Now that it definitely feels like spring (68 degrees yesterday, woohoo!), which blazers will you pull out of your closet first? Is there any such thing as a "seasonless" tweed, or is all tweed necessarily "best" in 2 or 3 seasons at most?
Our Latest Favorite Tweed Blazers for Women
In general, a lot of the below tweed blazers are best for winter months — what are your thoughts?
Our Latest Favorite Chanel-Style Jackets for Women (Many in Tweed!)
In general, a lot of these Chanel-style jackets are either seasonless or lightweight tweed for summer.
Some of our latest favorite Chanel-style jackets for work in 2023 include these, but in general check brands like Chanel, St. John, IRO, L'Agence, and Sandro.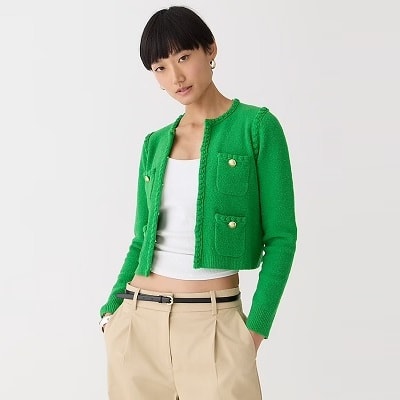 Stock photo via Scop.io/Jean Goh.