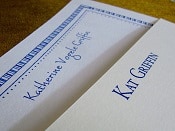 What should working women do when they get married — take their husband's last name, create a new last name, or keep their maiden name? What factors matter? Reader E wonders.
I have a question about maiden names vs. married names. I am currently in law school and am planning an engagement sometime in the recent future to my boyfriend of four years. My question is this — I have a very professional and short last name, in addition to a middle name that I commonly use with my first. Both are one syllable, which is nice since my first name is three. Unfortunately, my boyfriend's last name is also three syllables, and difficult to spell and pronounce.

Looking forward to my career I would love to use all four, but realize that that is probably too much for a work setting. What is the protocol on creating a work-friendly name. To be clear I do NOT want to use only my maiden name.
This should be an interesting discussion. There was JUST a New York Times op-ed about this, and Vivia Chen at The Careerist has recently(ish) explored the topic in a three–part series. We've talked about name change after divorce, as well as Ms. versus Mrs., but we've never discussed choosing a last name because, honestly, this is one of those topics where people get somewhat passionate, so I've shied away in the past. (So ladies, please play nicely.)
Here's my official $.02: Do what's right for you and your family. Everyone is going to have their own reasons, probably influenced by what their mothers and married friends (both of their age and older) have done. Your reasons — whatever they are — are valid because this is your choice, and yours alone.
Obviously, I come at this from the perspective of someone who took my husband's last name. I'd rather not discuss the reasons why I did so in a public forum like this, not because they're weird or unusual, just because they're my reasons, and it's ok/important to keep some things private.
Did it help that I moved from a difficult-to-pronounce German last name to an easy, common last name? Yep.
(For the record, I legally changed my maiden name to my middle name, and used all three names professionally when I was last working as a lawyer; all three names are also on my driver's license.
It was a business decision to go with Kat Griffin when I "came out" of the anonymous blogging closet — shorter for bylines/social media, more friendly/fun, and easier to remember and pronounce.
(One of my best friends, asked for her opinion between the two names, said, "Hmmn. If I were casting for you in the movie of your life, I would see Meryl Streep playing the longer three-name part, but Cameron Diaz playing Kat Griffin." Apparently in my life movie I am blond.)
It felt like an alter-ego for a time — only good friends have called me Kat in the past, and Griffin was still new to me — but now I'm comfortable being both Kat Griffin and my full name.
(If you meet me in real life in a non-blog capacity, though, odds are good I'll still introduce myself as Katherine and then look like I want to change my answer.)
So… yeah. I'll turn it over to you guys: Those of you who are married, what last name did you choose? Those of you who've been divorced, what last name did you choose? What factors did you consider, and how do you feel about your choice now?
(Pictured: my personal stationery, bought at Fine Stationery.)