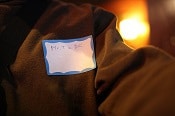 When do you call work associates by their last name (such as Ms. Griffin), or by another title (such as Attorney Griffin)? Do you have a preference how work associates refer to you — and how do you communicate that? Does calling someone else "Ms. Griffin" make you look young? I've gotten a number of questions about this lately — one from reader D who notes,
I work in legal services on the East Coast, and I'm a little stumped about how to address people. On the one hand, working with the legal services population makes me eager to address people with titles, using Mr./Ms./Mrs. So-and-So as a mark of respect for folks in my office who otherwise may feel disenfranchised. On the other hand, as a native West Coaster, this level of formality is not inherent in my being and I frequently find myself slipping and referring to people by their first names.
Meanwhile, reader J was fuming because
opposing counsel start[ed] calling me 'Ms. X' as opposed to 'Attorney X'. I have never seen male attorneys addressed as other than 'Attorney Y'. The devolution to 'Ms. X' is clearly intended as an insult by opposing counsel. Any good suggestions for a professional but firm response?
We've talked about a lot of name issues — how to correct colleagues if they call you the wrong first name, how to get rid of an old nickname, and more — but When to Use the Last Name is kind of a big one. I suspect this is going to vary widely by region, so readers, please be sure to say where in general you are. A few notes:
Never, ever use "Mrs." in a business setting. Marital status is completely irrelevant. For my $.02, the only person who can call me Mrs. Griffin is my husband, at least until our son has playmates who are speaking in sentences.
Presume, in writing, that you should use the person's last name, at least on a first correspondence (e.g., "Dear Mr. Smith"). (If you're not sure whether it's a man or a woman, check out this post on gender neutral names.) This always feels fantastically weird to me, too, but if they're the kind of loosey goosey person who wants everyone to call them by their first name, they'll think, "oh, how funny, she's being very formal." I always find this vastly preferable than choosing to go with "Dear Bob," and getting the kind of person who takes huge offense that you've not called him "Mr. Smith." I feel like this gets harder the older you get, though — particularly when you're in that gulf of the late 20s/early 30s where you're definitely not a kid but the person you're addressing may still have 30 years on you, and view it as an important sign of respect. In fact, I'd say that the more you want to convey respect, the more you should default to a last name.
With people you meet while networking, it isn't usually a problem because they'll introduce themselves. Call me crazy, but I think if someone says "I'm Bob Smith," then you've got permission to call him Bob. On the other hand, if you're introduced to someone — "This is Mr. Smith," then that's what you go with until he says, "Oh, call me Bob."
The "Attorney X" convention is actually new to me — if it's happening in briefings for the court I'd probably put a snarky line in a letter to the court or in my next brief when addressing whatever issues caused opposing counsel to refer to you anyway. If it's in private correspondence, though, I'd chalk it up to "either he or his assistant is a moron/sexist pig" and move on.
Poking around the web, I see that Evil HR Lady (writing for CBS Moneywatch) notes that either "Dear Suzanne" or "Dear Ms. Lucas" is fine, but she hates when she gets "Dear Susan" or "Dear Suzy" letters (I 100% agree with this!).
Readers, where do you fall on this issue — when do you use "Mr." and "Ms." in business? How do you respond to someone who hasn't addressed you with the appropriate respect (e.g., Attorney X)?
(Pictured: My Name Tag, originally uploaded to Flickr by Mr. T in DC.)