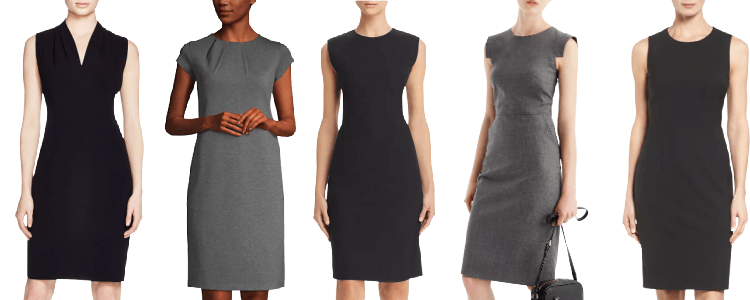 Some of the most stylish sheath dresses for work as of 2021: one / two / three / four / five (not pictured but also) 
Sure, we all know what wardrobe essentials for work professional women are supposed to have in their closets, but if you're buying one for the first time or replacing one you've worn into the ground, it can be a pain to find exactly the right incarnation in stores. In "The Hunt," we search the stores for a basic item that every woman should have.
For spring and summer, classic dresses for work are often the easiest thing to throw on — particularly if you keep a blazer and cardigan and a pair or two of classic pumps or comfortable heels at the office, you can almost create a work uniform from the sheath dress.
(In fact, in our four-week work outfit challenge we dared you to try wearing the same sheath dress four different ways during the four weeks!)
Particularly for summer, note that slipshorts are a reader favorite for comfortable layering under sheath dresses; if you want something to suck you in a bit more you may want to check out shaping shorts like these from Spanx.
(If your office is extremely conservative, do check out our guide to pantyhose — and keep in mind that going sleeveless may be controversial in your office, so keep a cardigan or blazer close at hand if you're new.)
Update: here are some of our latest favorite CLASSIC sheath dresses for work — as well as some great plus-size work dresses and colorful sheath dresses!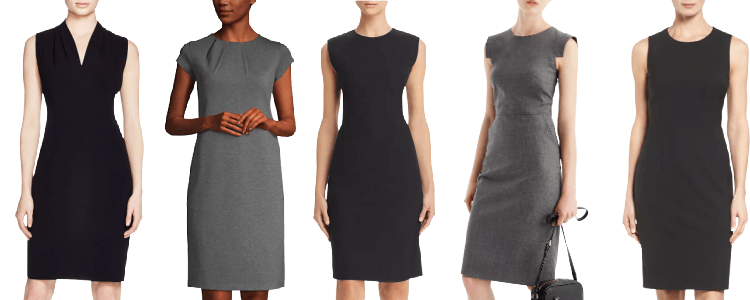 Some of the most stylish sheath dresses for work as of 2021: one / two / three / four / five (not pictured but also)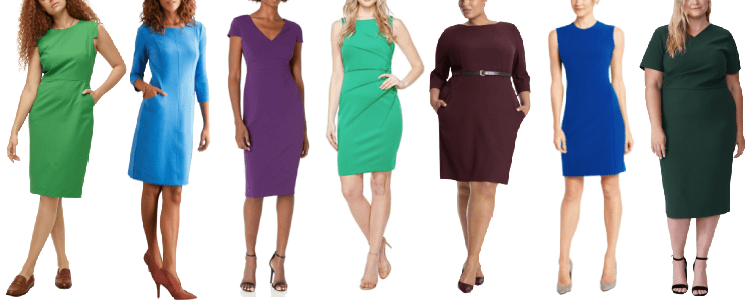 Hunting for colorful sheath dresses for work? Great bets to check as of 2021 include some of the brands featured above: 1) green* 2) blue 3) purple 4) green* 5) burgundy* 6) cobalt 7) green* (*s come in regular & plus sizes)… also this dress, this dress, and this dress (not pictured)!
We've rounded up a ton of options below (including ones in a wide range of sizes, sheath dresses with pockets or sleeves, and more!) but I'd love to hear from you — what are your favorite dresses to wear to work? Do you feel like black dresses are classic — or is the color too heavy for warmer weather? Does your summer work uniform include a ton of dresses — and which are your favorites?
Curious for past roundups of sheath dresses? Here they are from 2017, 2016, 2015, 2014, 2013, 2012, and 2011. For other sizing issues you may want to check out our roundup of bespoke dresses, which you can order fit exactly to your measurements.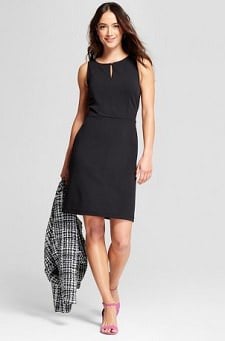 If you are working with an extreme budget right now, in addition to the Briggs dress (which sometimes goes as low as $15), Target has a number of cute ones right now. This sleeveless keyhole dress has a very classic feel, and could be layered under a number of cardigans, blazers, short-sleeve sweaters, and more. It's $24.99 at Target, available in sizes XS-XL. (EEEK and I somehow missed that it is open across the back — so as commenters note, this would only be appropriate for most offices if you wear a cardigan or blazer with it.) Sleeveless Keyhole Dress – A New Day™ Black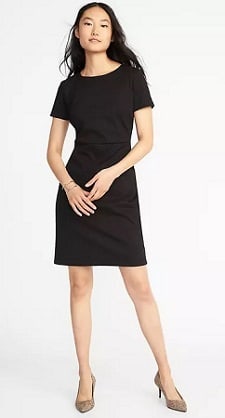 Another great budget option: the ponte knit sheath dress from Old Navy. I love the sleeves on this one, as well as the fact that it comes in regular, tall and petite sizes XS-XXL — it's also machine washable. The dress is $37 (but today it's marked to $28!). It also comes in a more casual stripey option. Ponte-Knit Sheath Dress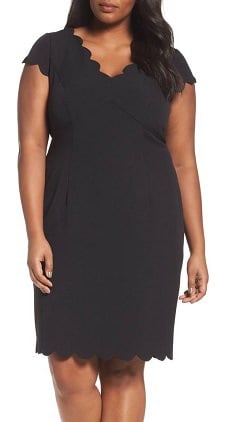 I can be iffy on scalloped edge details, but I really like them on this Adrianna Papell dress (available in regular, petite, and plus sizes). The dress looks flattering and versatile, but the edge detail elevates it. Very nice. It's $98-$108 at Nordstrom; Amazon also has a few sizes left in a "midnight" blue. If you're looking for other plus-size option, check out our roundup in the bullet-points at top — this $109 dress looked particularly great as well. Pictured: Scalloped Crepe Sheath Dress –
Nic & Zoe's Twirl dress has been on our radar for years as a great flared dress, but this ruched matte jersey dress is, I think, a new addition to their line. I really like it, particularly if you're looking for a desk to dinner kind of dress — swap out your classic pumps for strappy sandals, throw on some dangly earrings, and you're ready for date night. The dress is $128, available in three colors, and hand washable. Twist Side Matte Jersey Dress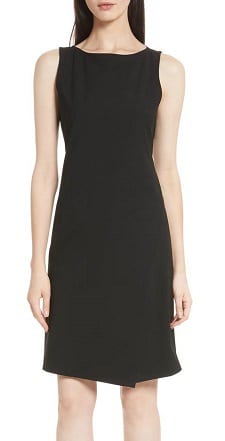 As we've previously mentioned, Theory seems to be phasing out their old standard sheath dress, and this newer, slightly A-lined version is getting great reviews. The faux wrap skirt is an interesting detail while still keeping you comfortable at work, and a seasonless wool dress is always a nice option. This dress is $345 at Nordstrom, Theory, and Amazon. Risbana Good Wool A-Line Dress
Like this feature? Check out other recent installments!
This post contains affiliate links and Corporette® may earn commissions for purchases made through links in this post. For more details see here. Thank you so much for your support!