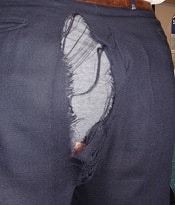 Sometimes, women new to suits don't realize that when you purchase it off the rack, there are a number of things that are sewn up for display purposes that should not be sewn up once you wear them. Namely, pockets on jackets and pants, slits in skirts, and vents on jackets.
Slits and vents will be sewn shut with a tiny "X" marking the spot — you should cut that off gently and remove all the thread.
Pockets are your choice* — you don't have to rip them open, but it probably isn't a bad idea if you have a building card pass to carry or want to take your debit card for a lunch run. Again, take some scissors and rip them open and remove all offending thread. (Although, in a pinch, just ripping it open with your bare hands will do.)
If you aren't sure whether or not there's actually a pocket in there, look on the inside of your jacket or pants — you'll see the pocket pouch.
* We say pockets are your choice because no one will really know whether you've ripped them open or not — with the X on vents and slits you look like a novice if you're still wearing them that way. But, even though pants pockets are your choice, we particularly recommend it if you've been eating too many summer lunches and your pants are a wee bit tight — ripping the pockets open gives you easier access to smooth the fabric of the pockets so they lay flat against your derriere.
Pictured: If your pants look like this, you're doing something wrong! Trouser suicide, originally uploaded to Flickr by edmittance.