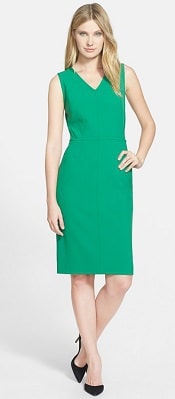 Is it professional to go sleeveless at the office — even if you don't have perfect arms? When you want to bare your arms at your sleeveless-is-acceptable office, is it worth considering other people's potential reactions if you don't exactly have Michelle Obama arms to show off? Do people adjust their expectations of what's "appropriate" when considering coworkers of different body types? Reader C wonders if sleeveless looks can ever be professional…
Some of the women in my department (including those who outrank me) wear sleeveless dresses and tops in the summer months, and I'd like to as well. However, from what I've seen, my arms are a lot flabbier and dimplier than those of the women who usually go sleeveless. I don't want people to be grossed out (though I don't think they should be and I am NOT ashamed of my body) but I was wondering if you think there are different attire expectations for different body types.
Hmmn. We haven't talked about going sleeveless at work in a while — in general we've noted that you should know your office when it comes to bare arms, and when we talked generally about what not to wear to work, many of you mentioned in the comments that sleeveless tops and dresses are acceptable at your office. I'm really, really curious to hear what readers say here. (Pictured: Classiques Entier Colette Sleeveless Dress, available in green and black, marked down to $142 (from $235). Here's an awesome plus-size sleeveless sheath dress available in three colors, also on sale.)
For my $.02: I think that if sleeveless dresses are appropriate for some in the office, they are appropriate for everyone in the office — so listen to your own comfort level, and go ahead and wear them if you want to! Note that in general, sleeveless tops and dresses are more professional when they have a thicker strap, a very high armhole (so there is no underarm… spillage, shall we say), and (obviously) no peekaboo issues with the bra. The more formal the item of clothing (blouse vs. t-shirt, sheath dress vs. maxi), the more likely it is to be appropriate.
As someone who has always had flabbier arms as well, though, I will note that sometimes a fake tan helps a bit, as does having a lightweight (cotton, linen) sweater or blazer to wear when you're arriving places. Even if you end up removing the sweater or blazer to be more comfortable, the initial impression is more formal.
Ladies, what are your thoughts on going sleeveless at the office? If you have flabby arms, do you go sleeveless? Do you think sleeveless looks are professional, in general?