SO, first: Yes, these nail stickers are an MLM. But I heard about Color Street in one of my FB groups (a bunch of women swore they were the best for at-home manicures), and after resisting the urge for a while (it sounded really cool) I finally just went to the website and bought some.
I have no affiliation with the company, I don't know anyone who does, and although we've got our affiliate link disclaimer on this post, it's only for the sales links at the bottom. Because it's an MLM, I wasn't inclined to write about the experience at all, but… it's a really cool product! So in the interest of sharing, here's my Color Street Nails review.
As I've written before, I stink at applying nail polish — and I've never been a fan of getting manicures. I'm lucky to have healthy nails, but I keep them really short, and between typing and just general daily life, I can never seem to make polish last very long, so I usually wear no polish — naked nails. I haven't been interested in gel polishes because I've heard they wreck your nails and you have to keep getting gel polish. So for the occasional, twice-a-year manicure, I either do a sloppy job myself, or make the time to go and get a professional manicure.
So when I heard people talking about these nail stickers, I was intrigued — unlike the old-fashioned press-on nails (where something hard adheres to your nail) these are just plain stickers that you then file down to fit your nail exactly. I was PARTICULARLY intrigued by the idea that the "polish" could be removed with simple nail polish remover. Then I realized that they were an MLM, and because I generally try not to support those businesses, I didn't order. (Here's an interesting article from The Atlantic on the anti-MLM trend.)
For some reason this interest kicked around my head for about six months, and I kept coming back to it. I finally decided to bite the bullet and order some from the website for about $10 per set; I got four sets because, why not.
The pressing questions I had: Could I apply them easily? How did they look? Did they last longer than a day? And — most importantly to me — how huge of a pain were they to remove, and did they wreck my nails in the process?
Honestly? They're great. I easily applied a purple ombré glitter in about ten minutes (I had a virtual alumni thing for Northwestern, so purple was fitting), and filed them down in no time at all. I did not push my cuticles back because, well, I hate that, but I may next time. The only moment of confusion in applying them was because they came with 16 stickers instead of 10, but I figured a few were touch-ups perhaps, so I dutifully saved those in a little Ziploc baggie.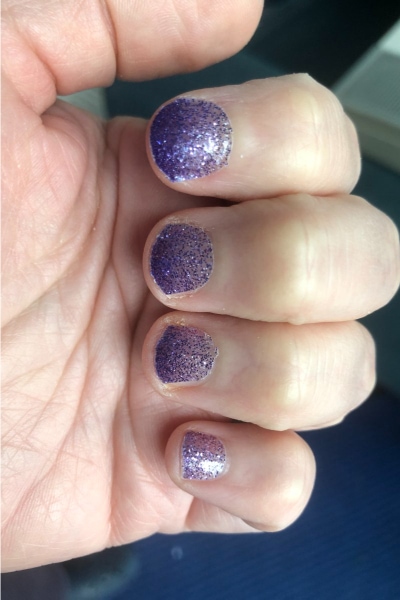 My nails lasted two days before disaster struck, which is about par for the course for me with any manicure I've ever had — the sticker on my left middle finger ripped off after a shower. (Weirdly, touching my hair and washing my hair were the biggest threats to the nails — the hair would threaten to get under the sticker by the cuticle. The top of the nail, where I'd filed the sticker, was completely adhered.)
Psst: I probably wouldn't wear ombré glitter nails to work — at least not to a new office — but you do you. Here's our last discussion on work-appropriate nails.
I tried to do a touchup with the leftovers, but they were almost entirely dried out, so I just used a blow dryer to help me replace the sticker, and it held for the rest of the week I had them on. (I'm also That Person who can't stand chipped nail polish, so I remove it as soon as it starts to look a little wrecked.)
I lasted a full seven days before I removed the stickers. After reviewing some YouTube videos, I decided to do the new-to-me method of a Ziploc bag/warm water. (You pour some nail polish remover in a Ziploc bag, then put the bag in a mug of warm water, and rub your fingers together — no cotton balls or aluminum foil required.) I held my breath. Was this going to be an hour-long process?
Amazingly, it was pretty painless to remove the polish, and 10 minutes later my fingernails were their usual healthy pink — no worse for wear at all.
So: at this point I'm pretty excited about this product for the two times a year I want a color or pattern on my nails. The next time I put them on I may do one or a few of the following: a) use a blow dryer to help the sticker fully adhere, especially at the base of my nails, b) use a cuticle pusher stick to either 1) push my cuticles back and/or 2) help the sticker fully adhere at the base of my nails.
I've searched comments and haven't seen any threads on point — what are your thoughts? If you're a fan of the occasional at-home manicure, do you have a preferred product or method?
(The blogger at Pulling Curls looks like she has a multi-part series comparing different products!)
This post contains affiliate links below and Corporette® may earn commissions for purchases made through links in this post. For more details see here. Thank you so much for your support! As of this writing we do not have any affiliation with Color Street Nails.
Workwear sales of note for 3.24.23:
This post contains affiliate links and Corporette® may earn commissions for purchases made through links in this post. For more details see here. Thank you so much for your support!
We are a participant in the Amazon Services LLC Associates Program, an affiliate advertising program designed to provide a means for us to earn fees by linking to Amazon.com and affiliated sites.
Workwear sales of note for 3.24.23:
Some of our latest posts here at Corporette…
And some of our latest threadjacks here at Corporette (reader questions and commentary) — see more here!