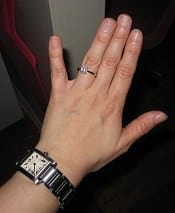 2017 Update: we still stand by this advice below, but you may also want to check out our latest discussion about work-appropriate nails. 
Can naked nails be a polished look?  Are unpolished, unmanicured nails unprofessional?  Reader A has an important question:
I have a reader question that I'd like advice on. I'm about to start my first job out of law school and would love to have a very low-maintenance nail routine (no color polish) that I can do at home. Mostly, I have terrible cuticles and I'd like to have a more polished appearance, but my job is not flexible about leaving during working hours and I'd rather spend my weekends with my kid. Manicures seem like a waste if I'm avoiding color polish. Can you or readers advise? Should I be trying to fit in weekly/monthly manicures as a requirement of working?
This one speaks to me as I also hate spending time on manicures — so I'm curious to hear what readers say here. As I've discussed before, there was about a month of my life (maaaaybe 6 weeks) right after I got engaged that I went for manicures weekly. Then: it got old. I don't particularly enjoy them, I get bored if I can't be reading during it (like one can with pedicures), and with the recent NYT exposé on nail salons I've just skipped the entire routine this summer. I have, in the past, advised readers to get a simple manicure (with clear or light pink or beige polish) for job interviews and possibly the first week of the job, on the assumption that you're shaking a lot of people's hands and you want to look as polished as possible.
But after that: I say, screw it.  I type way too much for manicures to last a long time on me, I stink at doing them myself, and I really hate the experience of getting a manicure. (And I keep hearing horrible things about gel manicures, but maybe that's me!)  I keep my nails short and neat… and that's about it.  I've been a fan of Nail Envy in the past when I've wanted to do a bit more upkeep (and we had a recent post a few months ago where we talked about nail brightening polishes, which still intrigue me), but for most of my working life I've just left my nails plain.
Raggedy cuticles can be another thing, I suppose, and I have a few thoughts on that point as well.  First, a regular manicure may just make your cuticles worse unless you're getting a treatment done on your nails; I've always read that for health reasons it's best to not clip your cuticles (see this article from WebMD).  Personally I find that regularly moisturizing my hands really helps with my cuticles — just a simple bottle of Curel on your office desk or in your bathroom at home can help with that.  If you're still noticing a problem beyond that, you can always take the next step and use gloves — either plastic gloves to protect your hands while doing the dishes, and/or moisturizing gloves at night to help moisturize your hands.
Ladies, I'm curious: what are your thoughts on naked nails at work? At what point do nails or cuticles become a Problem?  What are your best tips for caring for them — any favorite products for cuticle care? 
Pictured: My own nails, in a picture taken about 10 minutes after I got engaged.  All rights reserved.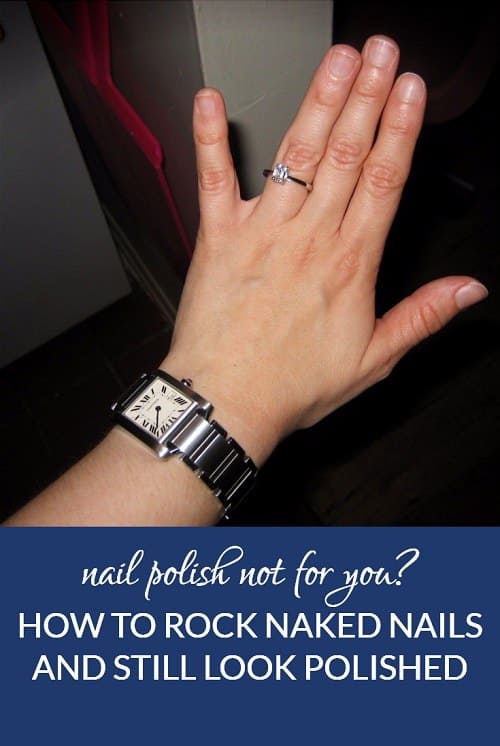 —————
N.B. These substantive posts are intended to be a source of community comment on a particular topic, which readers can browse through without having to sift out a lot of unrelated comments. And so, although of course we highly value all comments by our readers, we're going to ask you to please keep your comments on topic; threadjacks will be deleted at our sole discretion and convenience. Thank you for your understanding!