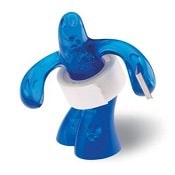 How do YOU like to decorate your desk? Where is the line between "plain vanilla robot" and "crazed Cathy fan"?
You covered desk essentials recently, but what I've really been wondering is: How do you "decorate" a desk? Where do you draw the line between professional and tacky?

I'm a young (25) legal professional working in a very casual environment where most of the other people in the building are not lawyers. Most of these other people are women who are fairly close to retirement age, so their desks are…. well, tacky. Think small animals holding signs with "witty sayings" and billions of pictures of grandchildren. At the moment, I only have some nice letter holders and a pretty inbox on my desk. I'd like my desk to look professional, but I have no idea what a professional desk has on it!
We've talked about how to personalize an office before, as well as liven up your office walls, as well as how to choose your own office furniture, but not in a while, so I'm curious. For my $.02, my desk/office space (even in BigLaw) has always included these things:
personal photos facing me (not my visitors)
Wacky paperclip holder/tape dispenser (such as the Koziol Designs Elvis the Tape Dispenser, pictured above, available at Amazon for $25)
Personal mug as pencil holder (which for me, weirdly, has always been what would be my next job — while in BigLaw I had a mug from the 25th anniversary of the nonprofit I eventually worked for; at the non-profit I kept a Corporette mug on my desk).
A small monthly calendar (I always had artsy/travel mini-calendars when I was in BigLaw; since having a kiddo I've had VistaPrint desk calendars)
A stress ball (right now I have one that says "Just Say Fooey and Move On" on it from VistaPrint) (just tried to take a picture but my computer is being wacky and won't upload the photos)
Fake keys on my keyboard, including one that says "Panic"
Post-It notes taped to my monitor. I've had a growing collection of fortune cookie fortunes for a long time now (there are currently five — the first very faded one says "Say hello to others. You will have a happier day."). When I was working as a lawyer I kept a PostIt of relevant BlueBook notes for whatever regional reporters I was citing most often; now I have the computer codes for the different Corporette colors, as well as other notes and things to remember.
Psst: stay tuned for some of our recent favorites for cute office supplies!
This post contains affiliate links and Corporette® may earn commissions for purchases made through links in this post. For more details see here. Thank you so much for your support!
Now: does any of this make me a stylish professional? Not necessarily, no. I suppose at best an outsider might think I'm a wacky dork; at worst a frazzled mom. Ultimately: it makes me happy, it keeps me productive, and ultimately very few people sit directly in front of my monitor and get the full effect, so I will probably always have this kind of stuff.
I'm curious, readers — what are the little things you have to personalize your office? Can you describe examples of colleagues' offices that you thought gave you a strong negative or positive impression?