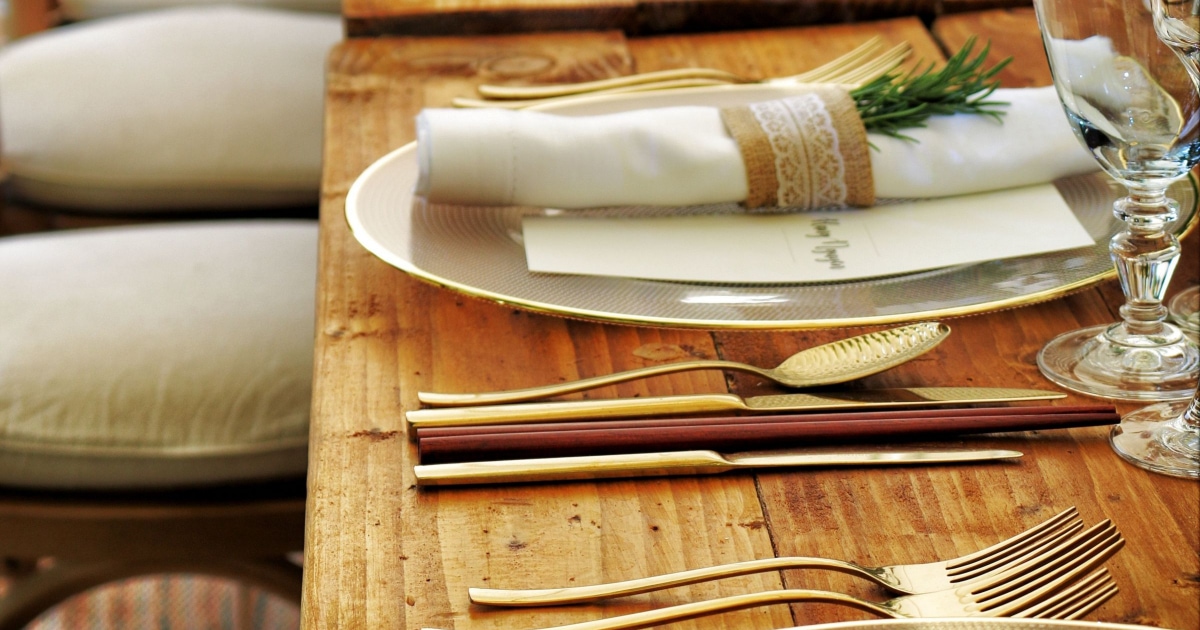 2020 Update: We still stand by this discussion on how to throw a dinner party with your boss — but you may also want to check out our more recent discussion on how to throw dinner parties.
What are the rules regarding dinner parties — and do they change if you're inviting a boss or an existing or potential client? Reader M wonders how to throw a dinner party for work purposes…
Idea for a post/thread during the holiday season: what is the modern-day dinner party, and how can it positively/negatively affect your career? I've had a couple situations where I've thrown dinner parties for older colleagues or bosses, and I'm afraid that I don't really know the all the "rules." Is there still a stand-around cocktail and appetizer time when your party is work-related? Do I need to have all the food done by the time guests arrive, or can I still continue to cook a bit? What do I need to wear – jeans and a sweater, or do I need to upgrade to business casual? I'm specifically talking about smallish (6-12 people) dinner parties where a boss, partner, or existing/potential client is on the invite list.

I'd love to discuss the best way to do this for working women who don't necessarily have a ton of time to cook or clean, and how I can portray myself, my home, and my family in a positive and professional way (that still stays true to who I am).
Wow. We've talked about what to wear to your boss's holiday party, as well as what to talk about at parties, but we've never talked about throwing your own dinner party for your boss and clients. I can honestly say that I have NO idea on the rules here, and am fascinated to hear what the readers say. Having lived in small NYC apartments for the majority of my adult life — and being, personally, about as far from Martha Stewart as you can get in the kitchen — I can say that on the rare occasions I've thrown a dinner party, it's been with friends close enough that we could all laugh about it when the kitchen catches fire and we order pizza (should it happen, which, knock on wood, it hasn't… so far). Having to cook for a boss or a client sounds like my own private version of hell. (Weirdly enough, though, we have thought about having my husband's boss over for dinner with her husband, but just the four of us. I can't find the right words to explain why this is so different in my mind than the prospect of inviting my own boss over, for a dinner party, but it really is — something about not wanting my boss to see me as just a good little wifey, perhaps?)
Poking around the web, the folks at Slate seem to think it's a breach of etiquette for an employee to invite a boss to a dinner party (which I can see — it's a big time commitment, and the other guests may or may not be people the boss wants to spend time with), while an Oklahoma-based site called Prairie Hive thinks you'll get "bonus points" if you're up for a promotion and invite the boss.
I'm really curious to hear what readers say here. What are the rules for a dinner party? Do you think that throwing dinner parties are a good way to get to know coworkers and clients, or that they're best avoided unless they're catered? Does anyone think that domestic skills (such as cooking, hostessing, and having a clean/well-decorated home) are things that should be downplayed in a professional capacity unless those skills are related to your job? What are your best tips for how to throw a dinner party for work purposes?
2020 updated images (table set with gold silverware) via Stencil. Originally pictured: Table Settings, originally uploaded to Flickr by prettywar-stl.