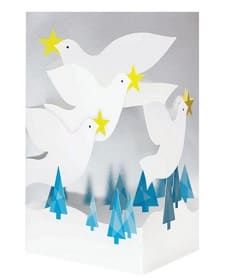 2017 Update: We still think this is an interesting discussion of sending holiday cards to friends and colleagues, but you may also want to check out all of our posts on holiday business etiquette!
Holiday cards: do you send them? To friends or colleagues or both? What kind of cards do you send, and do you have any rules about it? It's been eons since we last discussed which co-workers get a holiday card! (Pictured: MoMA Evergreen Doves holiday cards, $18.45 at Amazon.)
For my $.02, I think there are two kinds of people: those who send cards, and those who really don't. I'm definitely in the first camp, although I'll admit that the kinds of cards I've sent to friends and family have definitely changed since I've had kids. While I used to send pretty cards from museum stores and so forth, now I go to Shutterfly, Minted, or the like to get custom photo cards. But I don't send those cards to people I know through the business (and because business is e-based, sending a physical card seems weird anyway!) — and I can't see myself sending them to coworkers in my law school days unless I counted them a friend first, colleague second. (Over at CorporetteMoms we've talked about whether professional family holiday cards exist — and how to avoid sending what some of my single friends have joked about as "smug holiday cards.")
As far as rules go, I can't think of a time when I haven't gone with a fairly neutral greeting like "Season's Greetings!" or "Merry and bright!" just for efficiency's sake. I always order a few extra in case someone sends me a card who for whatever reason didn't get a card in the first round I sent them.
So I'm curious, ladies: Do you send cards to friends? To colleagues? What do you think about receiving them? Have you ever received one from a coworker that made you raise an eyebrow?