Today's poll is inspired by reader V's question:
I work in Big Law and throughout the recruiting season, I shake a lot of hands. Now and then I encounter someone who says, I'm sorry, I don't shake your hand I'm sick. While I respect that and appreciate that it's considerate, frankly I find the little spiel about "not shaking your hand because I'm sick" a bit off putting and it sure as hell makes for awkward introductions.
Interesting… I've always thought it's common courtesy to *not* shake someone's hand if you know you're sick. The only caveat I can think of is one outside the recruiting context — where, say, you're sick and in a situation where you're the most junior person in the room — and your boss barks out to the VIP some half-introduction and you're expected to dive forward, shake VIP's hand (with a firm, competent handshake!), and then recede back into the shadows to do all the work. In that situation, it would break the flow of the half-second transaction for the sickee to inform the VIP and boss that s/he is sick, and really, at that point they deserve whatever they catch from you.* 
(Pictured: Shaking Hands, originally uploaded to Flickr by Aidan Jones.)
But, like I said, that is usually not what happens in the recruiting context. I agree, being on the receiving end can be a little awkward — but I usually just say "oh, thank you! feel better" and move on with the conversation. If I really feel the need to make some sort of movement (because I've held my hand out too enthusiastically or whatever) I might do a slight bow, perhaps with both hands pressed together in front. But that's just my $.02 — let's hear from the readers. First, we'll take a poll from the sickee side of things: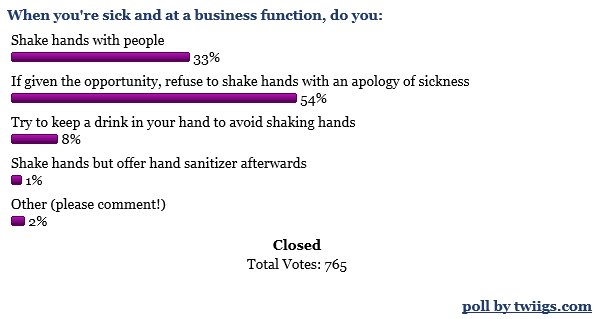 How have you guys handled the situation from the other side of things?
* Apologies in advance if this attempt at humor has gone awry: I'm having an off day.
Psst: here are our favorite products to have on hand when you're sick at work...

This post contains affiliate links and Corporette® may earn commissions for purchases made through links in this post. For more details see here. Thank you so much for your support!