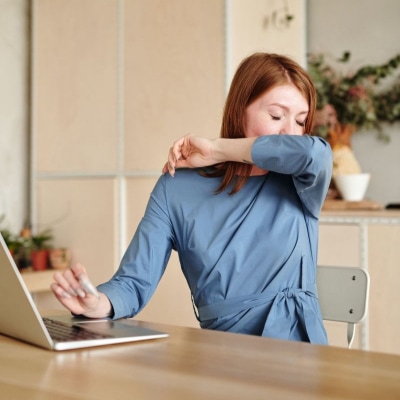 I was updating one of our older posts on 5 Easy Ways to Get Over a Cold and thought it might be interesting to discuss: What do you think is the business etiquette these days around head colds? What standards are recognized by your office for calling in sick? If a coworker or client attended a meeting while sick at a meeting, what situation would you find offensive (if any)? How common is mask-wearing and elbow-bumping in your business meetings at all right now, either inside or outside the office?
I feel like the general sentiment has changed from the "come in to work unless you're dying" to "just stay home if you don't feel well" — at least for general work in the office, especially since so many offices are still remote for part of the time. But for meetings, has the business etiquette changed?
My family and I have been much more on the cautious side of things during the pandemic, and most business meetings for me are unnecessary (or at least not dire), so I would probably be annoyed to show up in person and find the other person sick without at least a heads-up or offer to reschedule. (Especially since every head cold we've had in the past two years turned out to be COVID-19…) But that said, I know that at any given day my kids are probably in school with at least 20% of their classmates sneezing or coughing. So maybe we're just back to pre-pandemic expectations regarding head colds — part of life, and absent a fever or a positive COVID test, sneezing or coughing doesn't matter that much if it's a must-attend meeting.
But, obviously — this level of annoyance is going to vary from person to person and community to community, especially at this stage of things. I know there's a huge variety in readers' situations right now — many are still working mostly remotely, while others are back to work like it's 2019 (and maybe have been since mid-2020). And it may be assumed that people who are high risk or otherwise concerned are still social distancing and just not attending meetings like this.
So I'm curious to hear from you — what are you observing in your office, job, and/or career about head colds and business etiquette in 2022? What guidance have you gotten from management? If you were working with a new client or coworker and you were sick before a must-attend meeting, how would you handle the situation? (Do you discuss beforehand what people's comfort levels are, or otherwise signal it, such as at conferences where you choose a different color lanyard to express your social distancing comfort level?) How common do you find masks in business meetings outside your company, e.g., would you expect someone sick to wear a good quality mask like an N95 and skip shaking hands?
This calls to mind an older post of ours about shaking hands while you're sick — the reader who wrote in noted that she was annoyed when people gave a little spiel about not shaking hands during recruiting season because they were sick.
The reader comments in response were kind of interesting — it was 2010, not long after the big swine flu scare, and readers seemed equally split between "of course you don't shake hands while sick," and "just wash your hands before you shake." A few people noted that they would find it awkward if someone declined to shake hands and that it would taint their perception of the person. (Especially not good for recruiting season!) Alternatives to shaking hands that were mentioned included fist bumps and "grasping the upper arm warmly" and explaining why. (I suppose elbow bumping would also be an option these days?)
Psst: Regardless of whether you're at work or home, I love the recent(ish) movement to sneeze into your elbow instead of your hand, as pictured in the stock photo at top. I heard someone call it a "vampire sneeze," like a vampire pulling his cape around him with a flourish before disappearing in a puff of smoke, and now I can't unsee that.
Stock photo via Stencil.