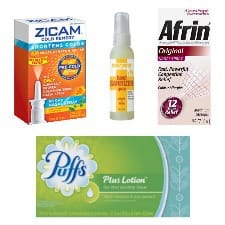 We all know we shouldn't go to work when we're sick. But whether you're a presidential candidate or have a more typical career, most of us do it anyway. (Note: Here I'm referring to the average Corporette reader with full-time benefits; the millions of Americans without paid sick leave don't have much choice about whether to stay home and rest.)
Maybe you have a conference or special event to attend, a big scheduled presentation to give, or a meeting to lead, and you just can't avoid being sick at work. We haven't talked about tips for going to work while ill in quite a while, so we thought it was time to revisit. (Disclaimer: Of course, please don't take this post as medical advice.)
In the past we've also talked about shaking hands when you're sick, what to do when you think you're coming down with a cold and ways to get over a cold, how to deal with many medical appointments, and how to explain an embarrassing illness.
Psst: here are our favorite products to have on hand when you're sick at work...

This post contains affiliate links and Corporette® may earn commissions for purchases made through links in this post. For more details see here. Thank you so much for your support!
First of all, here's some information from an actual doctor on determining whether you're too sick for the office. But if you need to go in no matter what, here are six things that can help you handle being sick at work (besides the age-old advice our mothers have given us since we were kids):
1. Afrin: I love the OTC nasal spray Afrin for "emergency" situations. If you're congested and constantly wiping and blowing your nose, it will miraculously help you breathe through your nose again (at least for several hours) — very helpful if you have to do a lot of talking at work. The main ingredient is oxymetazoline hydrochloride, which narrows blood vessels in your nose (kind of scary, right?) and should NOT be used for more than three days, so follow package directions carefully.
2. Zicam: Zicam offers many "cold shortening" products that are "[c]linically proven to shorten a cold when taken at the first sign," including nasal sprays and swabs, quick-dissolving tablets, lozenges, and more. (See the bottom of this page to read which ones have "clinical results.") It also offers nasal congestion and allergy products. Zicam is known for its zinc products (which caused a safety scare in 2009), but not all of its products contain zinc. However, they are homeopathic, so … well, they're not going to do much. However, the placebo effect can work even when you know it's a placebo (!), so these are worth a try.
3. Saline nasal spray: This kind of product isn't as fancy as #1 or #2 above, and it might not work as well as #1, but unlike Afrin nasal spray and some of Zicam's nasal sprays, there's no limit (for safety reasons) on the number of times a day or number of days in a row that you can use it. It can help loosen up your congestion, even though the effects don't last very long.
4. Tissues with lotion: I highly recommend Puffs Plus Lotion from personal experience. They make a huge difference when you're stuck wiping and blowing your nose all day — they're soothing and can reduce some of the redness and chapped skin that regular tissues can cause. There are also tissues with lotion and "the scent of" Vicks, but beware — they have a very strong smell (because, hello, Vicks).
5. Glasses: If you wear contacts, you should own a pair of a pair of glasses that you like enough to wear around the office so that you have the option when you're sick at work — you can leave your eyes alone, and the frames will bring some color to your face (in addition to the red nose, that is). If you're a frequent makeup-wearer but skip your routine when you don't feel well, they'll also camouflage that a bit. (When you clean them, don't bother using the lotion tissues mentioned above, because you'll just smear the lenses.)
6. Hand sanitizer: Your coworkers will not be thrilled when they see you sick at work, but if you have to interact with them up close, offer some hand sanitizer or hand wipes to earn back a bit of goodwill. If you want something that smells better than the old standby Purell, try Everyone brand sprays — the coconut-lemon scent is surprisingly pleasant (although not everyone in my family agrees). Note: The FDA, which just banned 19 chemicals in hand soaps and body washes, is also looking into the possible health risks of hand sanitizers, especially for pregnant women and children. Sigh.
Which products don't help when you're sick at work? A lot of people swear by vitamin C (including Emergen-C), but according to the Mayo Clinic, vitamin C isn't likely to prevent colds — or shorten them either (unless taken "before the onset of cold symptoms," which … I'm not a germ psychic). The same Mayo Clinic article has some more encouraging but still lukewarm praise for echinacea. (They also advise against drinking coffee, soda, and energy drinks when you're sick.) Vitamin B12 doesn't seem to hold great promise either.
Have you had to go to work when you were sick? Which products or items helped you, and which didn't? Do you have certain rules about being sick at work, for example, staying home if you have a fever or any, er, digestive issues? Do your coworkers tend to come to work when they're sick? Is it frowned on or seen as a sign of a hard worker? How much paid sick time does your employer provide, and is it enough?
We are a participant in the Amazon Services LLC Associates Program, an affiliate advertising program designed to provide a means for us to earn fees by linking to Amazon.com and affiliated sites.