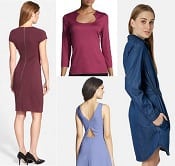 2019 Update: This is still a fun discussion on hated workwear design details of 2015 — but if you want to see our current thoughts on design mistakes for workwear, click here!
We haven't talked about design no-nos for workwear in far too long — so I thought today it might be a fun open thread. I know readers were recently talking about their hatred of exposed zippers (which I agreed with several years ago, but I guess I've been worn down by their omnipresence — the exposed zipper is everywhere!), and many of shared their hatred of unlined pants for a while now.
For my $.02, these are the workwear design details I hate:
shiny fabrics — why? No shiny suits, no shiny blouses… no thank you!
"personality" necklines, like the horseshoe — I bought one sweater like this a while ago and always felt like I was in costume for some play. They just don't seem appropriate for work…
shirt-tail hems on dresses — these really just feel like a nightgown to me, or, worse, like you're wearing your boyfriend's shirt or something.
cutouts exposing the lower back on otherwise work-appropriate dresses — no bueno! To me that automatically makes it a "fun" dress that isn't for work. I suppose you could make it appropriate by keeping a blazer or cardigan on, but you never really want to be forced to wearing something like that — what if you get hot?
built-in necklaces — these were more popular a few years ago, but I hate dresses and other tops that have costume jewelry affixed to the dress. It's usually poor quality, limits your options for care (to say nothing of your options for accessorizing it!), and — worst of all — the necklace makes the front of the dress so heavy that it gapes open.
Those are my least favorite… ladies, what are your most hated workwear design details?